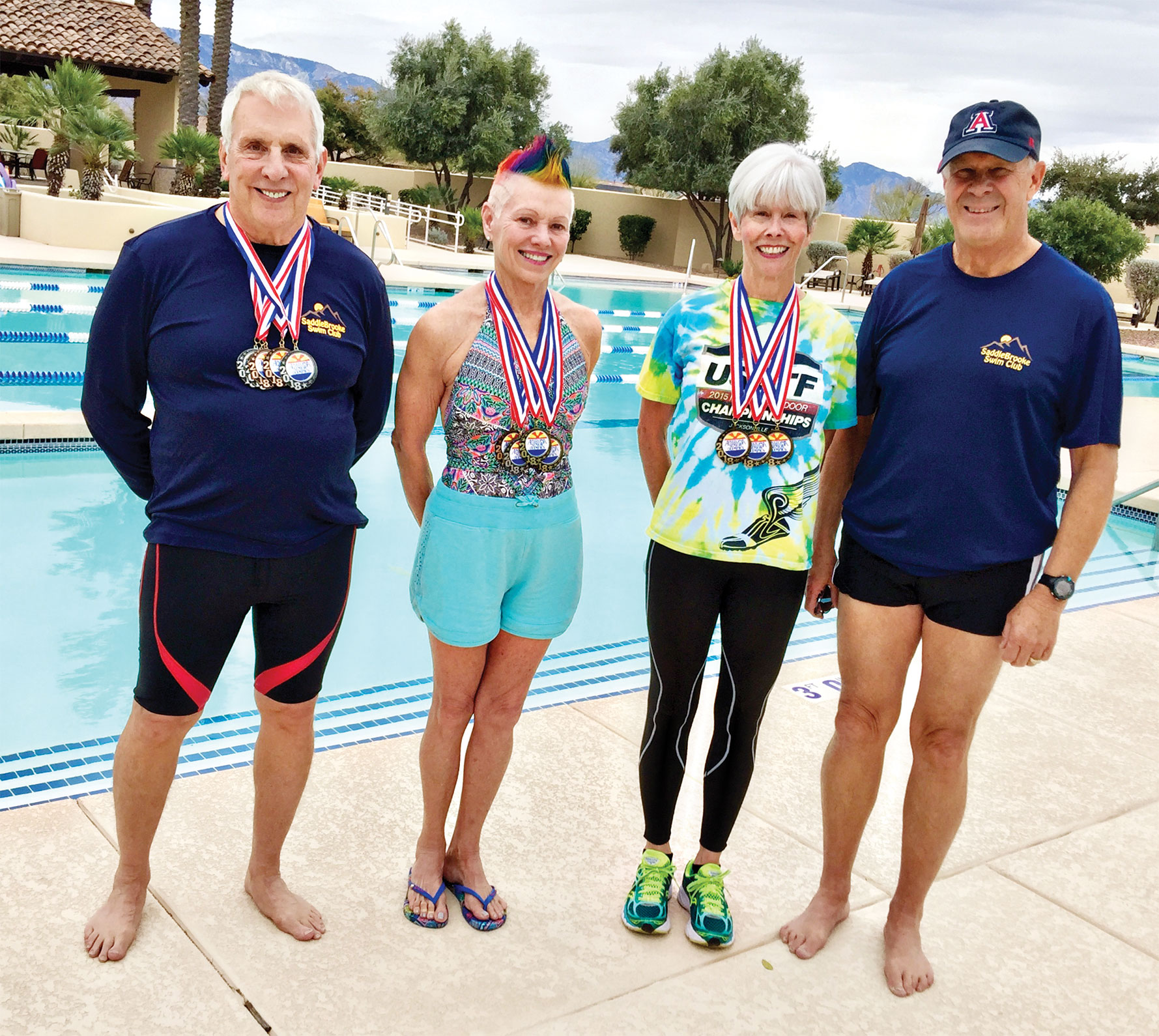 Don Schaefer
This past several weeks four SaddleBrooke Ranch Masters Athletes participated in qualifying events for the National Senior Games to be held in Albuquerque, NM, June 14-25, 2019.
The NSG is the second largest Senior Games in the world (Huntsman Games in St. George, Utah being the largest) with an estimated 10,000+ athletes descending on a different city (every two years) to vie for medals in 20 different sports. It is to say at least, a grand party, including opening ceremonies and many of the sports hosting casual banquets. While the competitors are focused on winning, the greatest takeaway is the numerous new friends and great memories athletes make during the competition.
Three of our residents are affiliated with the SaddleBrooke Swim Team which is a United States Masters Swimming (USMS) workout group. They swam at the AZ State Qualifier in Mesa along with several hundred other seniors from in and out of state.
Jim Spiegel (70-74 age group) won Silver in the 50 and 100-yard freestyle as well as the 100 butterfly. He also added Bronze in the 200 freestyle and 50 butterfly.
Kelly Reuter (65-69) who just recently came back to swimming after a 55-year hiatus, swam to Gold medals in the 50 and the 100 yard backstroke. Silver in the 50 freestyle, and Bronze in the 200 freestyle.
Don Schaefer (70-74) qualified for the National Games in the 200 freestyle with a fourth place finish.
Reuter will age up to 70-74, and Schaefer into the 75-79 group for the 2019 games. Swimming allows athletes who qualify in longer races to then swim two bonus shorter races of the same stroke at Nationals.
In Track and Field, Betty Schaefer (65-69) ran her USATF/NSG qualifying meet in Chandler, AZ. Betty qualified in the 100-, 200-, 400- and 800-meter races. Winning Gold in the 400 and 800, Silver in the 200 and a fourth place qualifier in the 100. Betty was the 2015 National Sr. Games 400-meter Gold Medalist (65-69) in St. Paul, MN. She will also age up this next year to the 70-74 group.
For those Ranchers who may be interested in qualifying for the 2019 Albuquerque Games the link is NSGA.com. There are numerous other sports yet to qualify in Arizona (including pickleball, golf, table tennis, shuffleboard, softball, etc.). Arizona seniors are able to qualify in other open states as well. The qualifying has to be accomplished in 2018 to participate in the 2019 games.