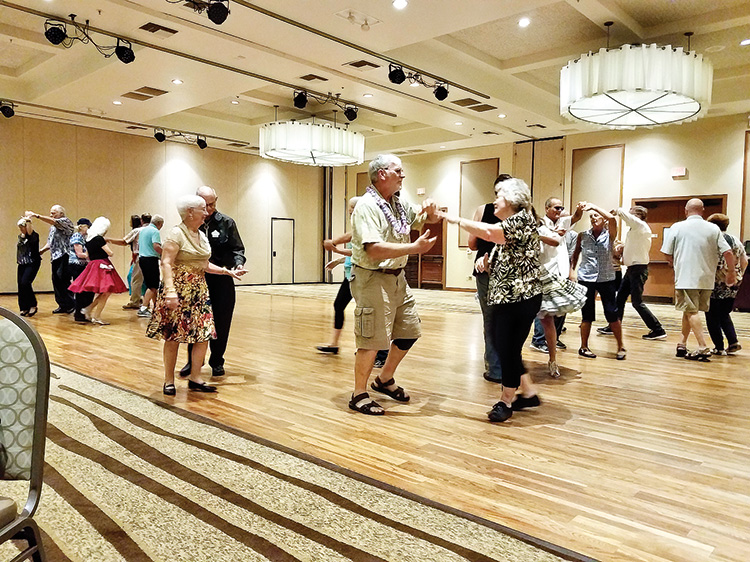 The Rancheros and SaddleBrooke Squares enjoyed dancing to Elvis music on Thursday, August 1. Dancers showed up in their best "bling" as well as "Man in Black" and Route 66 outfits. Their caller, Dean Singleton, did an outstanding job impersonating The King, dressed in full regalia, and playing and singing many favorite Elvis tunes to add to the square dance fun.
There were 62 dancers attending, nearly eight squares. Of those, 22 dancers were from Tucson and Green Valley. They came up to enjoy the festivities and dance to some of their favorite rock and roll tunes. There was a prize for the best "bling" which went to Cheryl Sornson of SaddleBrooke who wore a silver sequined dress with matching rhinestone accessories. She won the fixings for Elvis' favorite peanut butter and banana sandwiches.
The Rancheros and SaddleBrooke Squares all meet on Thursday evenings at the MountainView Ballroom for their dances. Each Thursday starts at 6:00 p.m. with mainstream and continues at 7:30 p.m. with a higher plus level dance which continues until 9:00 p.m. They also have a mainstream workshop every Sunday evening from 7:00 to 8:30 p.m.
If you already know the basic and mainstream calls for Square Dance, there will be plus level lessons offered starting on Sunday, September 29 for ten weeks. Beginning Square Dance lessons will be starting in mid-January and run until the end of April. It is important to attend lessons consecutively as each lesson builds on the last. The group does work with those who need to miss a week or two for vacations to get them caught up. Last May, 45 new dancers were graduated from basic and mainstream level.
To learn more about the Rancheros and Square Dancing, visit the SaddleBrooke Ranch HOA website under "Things to do", Clubs, Dance, Music & Theater. Click on "Rancheros-Square Dancing". That will take you to the Rancheros website where information is posted about square dancing and upcoming lessons and events. You can also contact Rebecca Williams at [email protected] with additional questions you may have.