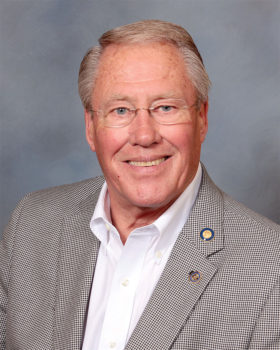 Neil Deppe, President
There is no password or secret handshake, just the word "Welcome."
I recently attended my first Rotary International Convention in Atlanta, Georgia; I found myself in the midst of over 20,000 Rotarians from over ninety-nine countries. Everywhere I looked, there were Rotarians in native dress always willing to shake my hand and describe the current project in which their club was involved. Today I look at my affiliation with Rotary quite differently.
In the Rotary world, we all work to make life better in our own geographic areas, but we have many ties binding us together, especially the eradication of polio throughout the world. Rotary has been working on this goal for years spending millions of dollars and, with the partnership of the Bill and Melinda Gates Foundation, we have only five cases of polio presently in the world. Our hope is to reach our goal of total eradication of the dreaded disease within the next few years.
Within Rotary, religion, race, gender, nationality, sexual orientation, political party, income, and education level are irrelevant. Our club's membership consists of a diverse range of ages whose goal is to leave our community and world better off than we found them. We have plenty of opportunities for participation for all interested parties and we are always searching for dedicated members.
Rotary was started over a century ago in Chicago, Illinois by Paul Harris and three of his closest business colleagues (who did not want to have lunch alone) and quickly became international due to the wide-ranging contacts of Mr. Harris. Our membership today is over 1.2 million; 33,000 clubs in over 200 countries and geographical areas.
The Rotary Club of SaddleBrooke meets on Thursdays at noon at SaddleBrooke One Clubhouse located at 64500 E. SaddleBrooke Blvd. We are a growing club, currently with forty-six members, celebrating our 20th anniversary this year. Please accept these paragraphs as a cordial invitation for any interested person to contact us about attending one of our meetings. You'll be greeted with a handshake and the simple word – Welcome!