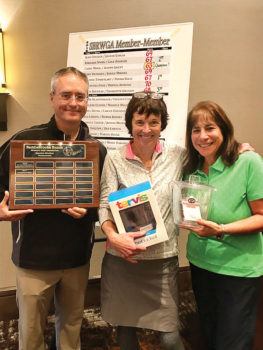 CJ Kerley
On December 11, 2018 the SaddleBrooke Ranch Women's Golf Association (SBRWGA) held its 2018 Member/Member Tournament. This is a best ball net tournament held yearly. Fifty-six members braved the cold, windy morning to compete in this event.
We want to congratulate our overall winners Carol Mihal and Allison Levitt with a low net of 63!
Flight winners include: First Flight: First Place Melanie Timberlake/Trisha Kelly 67; Second Place Barb Simms/Gaye Ohanian 67; Third Place Kathy Brennan/Charlotte Graham 68.
Second Flight: First Place Cheryl Reddy/Carole Ericksen 64; Second Place Michelle Carter/Jeanne Hardiman 65; Third Place Charlene Culver/Marlyce Mycka 66.
Third Flight: First Place Jeanne Osterlund/Mindy Hawkins 64; Second Place Toni Graves/Diane Taylor 66; Third Place Nancy Wilcoxon/Marci Whitehead 67.
Fourth Flight: First Place Nancy Galant/Mary Anderson 65; Second Place Bonnie Stark/Terri Fraser 68; Third Place Phyllis Pettijohn/Joanne Oliver 68.
Closest to the Pin winners included: Hole 2: Joyce DeYoung; Hole 5: Marlyce Mycka; Hole 12: Carole Ericksen; Hole 14: Toni Graves.
After golf, the ladies met in our new Ranch House Grill Ballroom for a lovely lunch. Thank you to Chef Jose and Heather and her crew for a lovely luncheon.
We also want to thank our two Pros Mike Jahaske and Ken Steinke for creating our Leader Board and posting the scores. And a special thanks to the Events Committee Marlyce Mycka, Mindy Hawkins, Jeanne Hansel, Nancy Galant, Lee Rinke, Barb Simms, Gaye Ohanian, Cheri Alfrey and Cheryl Reddy for their fabulous job!