Unit 8a – Tripped Up with Trivia
Janelle Authur
There is a saying that "necessity is the mother of invention." During the past year's COVID pause, finding ways to play games in small, socially distanced groups certainly required new approaches.
In June 2020, Unit 8A tried an outside, small group approach to trivia. Based on feedback, Tuesday Trivia became a monthly fixture on the unit calendar, with a hiatus during the winter months when it was too cold to play outside.
Each month, a unit resident volunteered to serve as Trivia Master for that month, compiling questions and tie-breakers, organizing the host homes and teams, and coming up with token prizes for the winning team. Six to seven participants played at each of three or four host homes and comprised a team. Team members then had to agree on a group answer to each question. At the end of the evening, each host reported their team's score to the Trivia Master, who then awarded the prize to the team with the highest score. While close, no team ever answered all 25 questions correctly, and tie breakers were needed only once.
Trivia Masters were free to choose their month's topic, which was not announced prior to play. The questions were as varied as the participant's knowledge, ranging from questions about our adopted state of Arizona, to history, government, TV shows, nursery rhymes, music through the years, sports, science, and geography, to name a few. One month, each participant submitted a question with the theme of Where in the World are We.
Prizes were equally inventive. The first month's prize was, appropriately, a coveted roll of toilet paper. Subsequent prizes were a box of Cracker Jack with a prize inside, vinyl record coasters, Reese's Pieces (E.T.'s candy), a lemon, a turkey centerpiece in the fall, and popcorn and candy.
Thirty-eight Unit 8A residents participated in at least one trivia challenge during the seven months of play. As of April 2021, Kate and Paul Thomsen and Jeanne and Rich Osterlund have each been on three of the seven winning teams. Congratulations!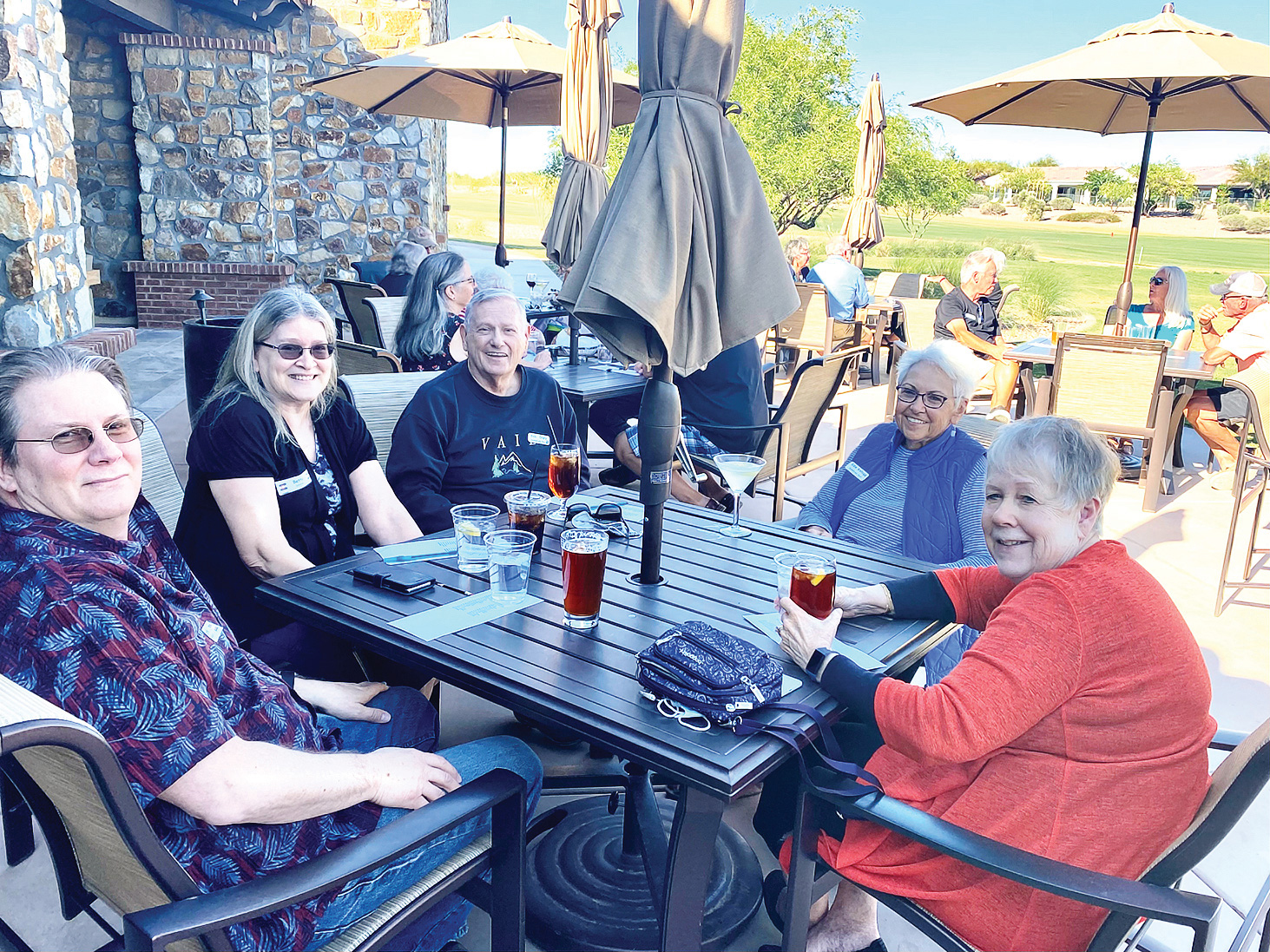 Unit 17 Hosts First Social
Pat Albu
Unit 17, which is going to be the largest unit in SaddleBrooke Ranch at 127 homes (!), had its first unit-wide social event on April 9, and we had a terrific turnout of about 60 homeowners. This included several residents-to-be, which we loved—they will be old friends by the time they move in! One couple, Lynney and Tim Graves, had just moved in that day! Everyone brought their own drinks and an appetizer, and Bill Albu provided '60s music on a really small bluetooth speaker. An ad hoc committee of Gail Cowan, Pat Albu, Jody Burdick, Susan Delehanty, and Alison Haney planned the event. We think it was a big success!

Unit 17's Siete de Mayo
Pat Albu
Our second gathering, Siete de Mayo, was even more fun than the first, with another 60 people in attendance and people becoming more familiar with each other. At our last party, we had 40 occupied homes, but we now have at least 49, and we had even more neighbors-to-be! Unit 17 seems to have a life of its own, and we are enjoying meeting and greeting all our new friends and neighbors.