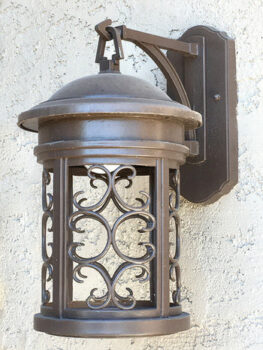 Architectural and Landscaping Committee
Spectacular night skies are a feature of life at SaddleBrooke Ranch. SBR is an International Dark Sky Community (IDSC) that promotes "improved outdoor nighttime quality of life for residents and visitors." IDSC designation requires, among other things, shielding of light fixtures and limits on the color temperature of light bulbs. The Architectural and Landscaping Committee (ALC) Guidelines provide details and information about how we comply with the Dark Skies initiative here at SBR.
An important and critical part of IDSC compliance are the standard carriage lights that all SBR houses have. Carriage lights are the wall-mounted fixtures typically found to the side of garage doors and along entry walkways at the front of the house.
The ALC Guidelines define limits on the brightness (lumens), color (Kelvin temperature), and direction that carriage lights can shine. Below is a quick summary of these requirements. Please see Article III, Section 21 (F) Lighting in the guidelines for more details.
Carriage light requirements:
* Have shielded light bulbs
* Be directed downwards
* Brightness not to exceed 700 lumens (lumens and watts are different lighting values)
* No colored bulbs
* Color not to exceed 3500 Kelvin (to avoid having "blue hot" lighting)
The guiding principle for lighting is to not be obtrusive to your neighbors.
Please note, carriage light requirements are separate and distinct from the requirements for other lights, such as landscape, security, flagpole, and holiday lighting.
Effective Jan. 7, 2022, the ALC will be implementing a campaign to bring all lighting within SBR into compliance with the ALC Guidelines. The first emphasis will be on carriage lights. We appreciate your cooperation with this effort and all ALC actions to protect our quality of life and the value of our beautiful homes.
Replacement of carriage light fixtures requires an ALC application.
If you have any questions, please send an email to [email protected]