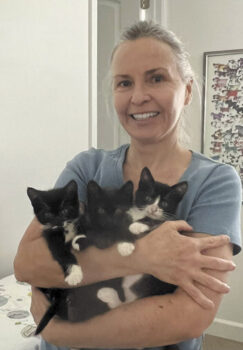 Debora Witten
Animal shelters need volunteers. The shelters cannot function without the help of volunteers. They need a few hours each week or month. Volunteering your free time can help give an animal another chance. Volunteers help to save the lives of abused, neglected, or abandoned animals.
Animals in shelters and rescues often come from a difficult background and have been through a lot in their short lives.
Give Your Time
Determine if you want to work directly with the animals at the shelter or if you want to foster them in your home. Fostering an animal is needed when they are too young or sick to be placed up for adoption. Less than an hour drive from the Ranch, you can help feed and care for baby birds or rabbits. You can take home a litter of abandoned kittens that need to be hand-fed until they are weaned and eating on their own. You can bring home a dog or cat that had surgery and now needs extra care in a home before going back to the shelter. You can walk dogs that have been living in a cage most of every day.
Give a Donation
If you can't spend time volunteering at a shelter, you can still help by donating money, pet food, pet treats, bowls, towels, blankets, pet toys, or grooming items. Dinking Divas of SaddleBrooke Ranch will hold a pet food drive on Aug. 1 from 11 a.m. to 2 p.m. at the Saddlebrooke Ranch pickleball ramada. All the above items will be accepted.
You can help make the difference in the quality of life of an abused, neglected, or abandoned animal.