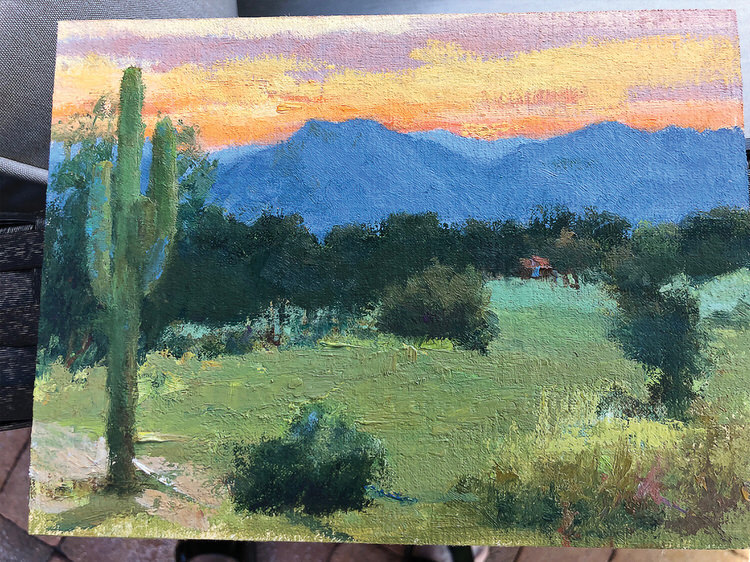 Linda Shannon-Hills
"Art is vital to my life. The love of painting is profound, deep-seated, and has called to me since early childhood. Many years of art studies and workshops with sought-after artists have brought me to where I am today." These are the feelings about painting by local SaddleBrooke Ranch painter Jane Lockett.
Jane was born in Dallas, Texas, but within two years, Jane's family moved to Denver, where she spent most of her early life. She started drawing when she was young, going out to a camping tent in the backyard to draw and teach her friends. She started painting in high school, then majored in art at Colorado State University and Denver University.
Her painting went to the sideline when she had to take a job to help put her first husband through school. Years later, she met Bill Lockett. They both decided to move to Rhode Island for one year, which turned into 30 years. For Mother's Day, Bill bought her an outdoor easel, and her plein air painting took off. She would paint outdoors and take a picture to bring back to the studio to complete. Most of Jane's work while in Rhode Island was of boats on the water. She sold in numerous galleries there.
Jane and Bill discussed where they might want to retire. They decided to take some trips to look for locations, traveling up the east coast from Florida back north. Jane was interested in locations in the southwest. At first, the desert did not appeal to Bill, but Jane had come to the southwest as an adolescent with her family and found the area exhilarating. How would she convince Bill that the desert was the right move? With their daughter, Summer, living in Washington State and the numerous golf courses in Arizona, they agreed to make the move to SaddleBrooke Ranch in 2011.
Since moving to Arizona, her primary body of work is impressionistic paintings of landscapes. She gathers her plein air gear and heads out to paint in Catalina State Park and places of breathless scenery that are often filled with magic or drama, including the mountains, the monsoons, and the desert. After taking workshops on painting mountains, which she explains is a very different technique, mountains have taken a new perspective in her painting.
Besides landscapes, Jane loves to paint flowers since moving to the Ranch. Bill planted zinnias and hollyhocks in their garden, so she now has a supply when she wants to work in her studio. She paints poppies bursting with color, zinnias and hollyhocks from her garden, or the endangered honeybees. Her works are expressions of those experiences.
To see more of Jane's beautiful paintings, visit her website at www.janelockett.com.