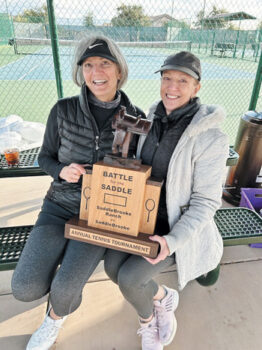 Kathie Marshall
The new year got off to a swinging start when 123 players braved the rain, wind, and cold to compete in the first Battle for the Saddle doubles tennis tournament on Jan. 4, 5, and 6 at the SaddleBrooke Ranch (SBR) tennis courts.
The two-day event was a friendly competition between the SaddleBrooke Ranch Tennis Association (SBRTA) and its neighboring club at SaddleBrooke. Battle for the Saddle was the brainchild of Mark Adamson (SBRTA board president) and Anne Williams of the SaddleBrooke Tennis Club (STC). The event featured men's and women's doubles, mixed doubles, as well as POP tennis exhibition matches. Players competed to win the newly created Battle for the Saddle trophy, designed and built by the talented Dave Stark in the SBR wood shop. The competition was exciting, and according to SBRTA player Marcia McChrystal, "Competition was fierce at all levels, as proven by the amount of third set tie-breakers that were played. Players were matched up according to ratings and aside from a few last-minute substitutions, the matches were highly competitive and close, and a great time was had by all."
Following the last match of the tournament, SBRTA hosted their SaddleBrooke teammates at a post-event social in the Sol Ballroom where match results were announced, and the winner of the coveted trophy was the SaddleBrook Ranch team!
Thanks to the success of the tournament and its organizers, Mark Adamson, Paula Cartwright, Sue Cook, and Anne Williams, Battle for the Saddle will continue as an annual event. In the words of Ms. Williams, "Never in our wildest of dreams would we have envisioned 'The Ranch' planning and executing a perfect event! The bar has been set very high for the SaddleBrooke Tennis Club to host next year's tournament. The Ranch handed the torch off to SaddleBrooke for the 2024 event. But the Battle Has Just Begun!"