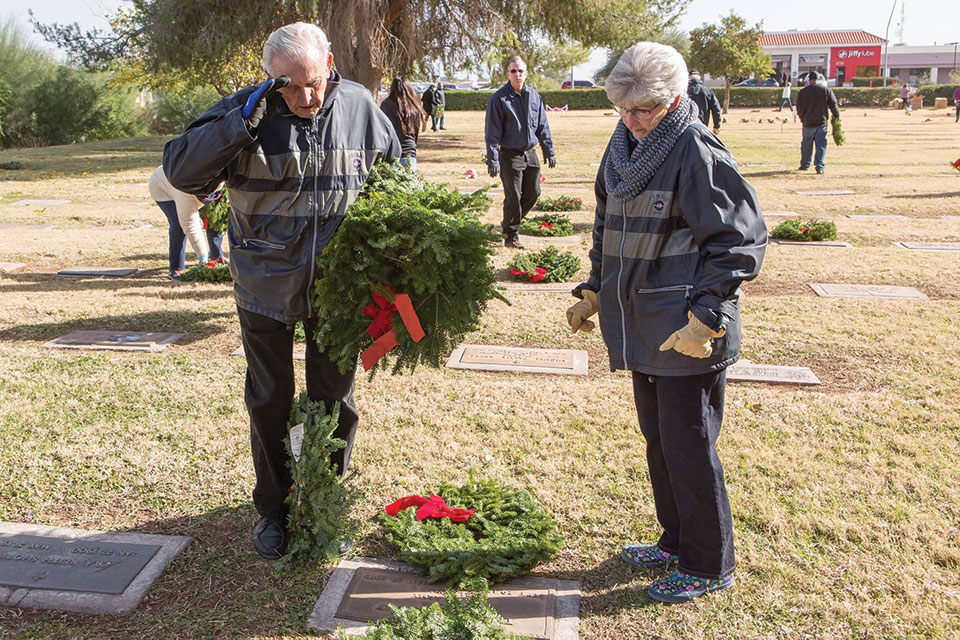 Kay Lantow and Linda Nicholson
Calling all SaddleBrooke Ranch residents to duty for Wreaths Across America. This year's event will be held on Saturday, December 16, 2017, at the Evergreen Cemetery in Tucson.
Sheron Jones, an American Gold Star Mother and president of the Tucson Chapter, is also the Location Coordinator for the Tucson event. Sheron helped us to organize our first effort in 2014, and this will be the fourth annual effort by SaddleBrooke Ranch to honor Veterans with a Christmas wreath.
Worcester Wreaths of Harrington, Maine organized Wreaths Across America in 1992, placing their wreaths at Arlington Cemetery. By 2016 with the help of volunteers and corporations, over 1,204,000 wreaths were donated and placed at over 1,200 participating locations.
In 2014 Ranch volunteers numbered 10. The day of the ceremony we had 750 wreaths to lay. Wreath donations come from all sources. In 2016 our Ranch volunteer force grew to 60 and the number of wreaths to more than 1,300.
In addition to the fundraising brochures, we are selling raffle tickets to win one of three prizes: first prize is a 2017 Ford Explorer Platinum; second prize is two round-trip, first-class airline tickets to anywhere in the world, and third prize is $5,000 cash. The Jim Click Automotive Team is presenting these prizes for non-profit organizations in Greater Tucson. The Gold Star Mothers of Tucson is one of those charities. Raffle tickets sell for $25 each or five for $100. Checks and cash will be accepted. All 100% of the proceeds from the raffle go to purchasing wreaths.
Kay and Linda will be available in the Bistro of the La Hacienda Club at SaddleBrooke Ranch on Wednesday, September 13, and Wednesday, October 11, from 3:00-5:00 p.m. We encourage previous and new volunteers to stop by to sign up, obtain an order brochure and purchase raffle tickets to support this year's event. They may also be contacted by email: Kay Lantow at [email protected] and Linda Nicholson at [email protected]
The cost of one wreath is $15. Wreath donations can also be made on the website: www.wreathsacrossamerica.org. When ordering from the website please enter these codes: Group ID: AZ0007P and Location ID: AZEGCT. Wreath donations should be made no later than November 15.
Photos by Steve Weiss.