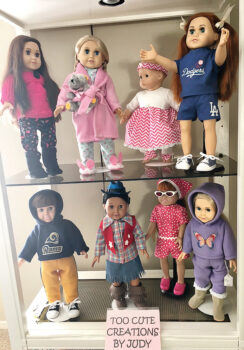 Judy Tedeschi
I recently relocated from southern California to SaddleBrooke Ranch. In California, I had a small business making doll clothes that fit all 18" dolls, the baby doll, and the Wellie Wisher American Girl doll.
I sold at elementary schools, churches, street fairs, and from my home. My doll clothes have been highly praised for choice of fabric and quality of sewing. The little girls love my doll clothes.
I make:
-complete bedtime sets (flannel pjs, fleece bathrobe in several colors, bunny slippers, and a teddy bear)
-dresses with shorts to match
-coat, dress, shorts, and a muff (only two left)
-cute-themed hooded fleece sweatsuits
-shorts sets
-pants sets
-cowgirl outfits (only four left)
-NFL hooded sweatsuits
-some Major League Baseball teams
-some shoes and boots still available
-matching shorts sets for girl and her doll (limited sizes available)
I brought a large inventory with me and don't plan to make more when this is sold out.
Prices range from $6 to $40. I have specials and some discounted merchandise.
Please contact me for a no obligation visit to view my inventory (I'd just love to meet you). Your grandkids will be so happy you did and it takes many back to their youth just to see it!
I also have a limited amount of 18" dolls for $25 that closely resemble the American Girl doll.
I look forward to meeting you.
Call Judy Tedeschi at 818-451-7758.