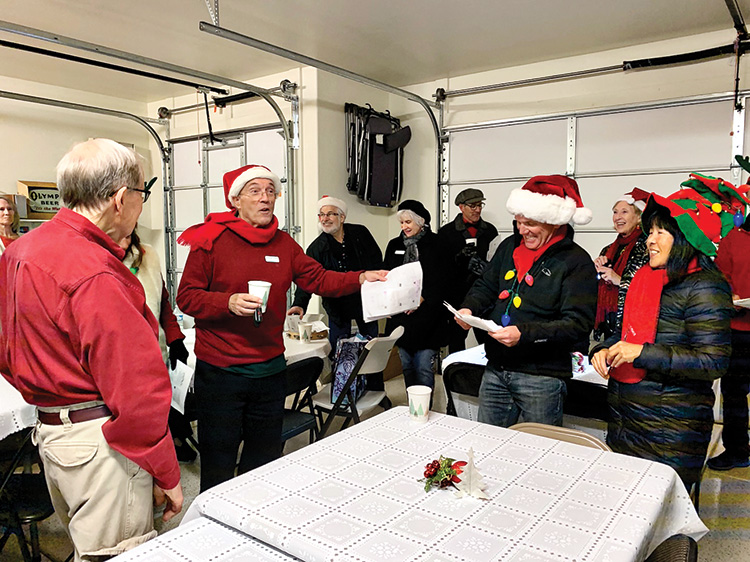 Alastair Stone
For the eighth year in a row, our expanding SaddleBrooke Ranch was alive with the sound of carolers in December. Under the direction of Alastair Stone, over 200 SBR neighbors joined together on Friday night, Dec. 13, in the Sol Ballroom at the Ranch House to sing their hearts out with Christmas and Chanukah songs. "The Twelve Days of Christmas" was, as usual, hilarious with 12 tables standing up to sing a different line. Thank you to Barbara Drury for her accompaniment on the keyboard, loaned to us by Celeste and Ron Stenhouse. Barbara also created overhead slides with the words for all the songs. Our SBR staff made this all happen and we thank them for their support.
The holiday spirit in song did not end in the ballroom, as 30 singers met on Sunday, Dec. 15 in front of the Golder Ranch Fire Department to begin our singing tour of the neighborhood. After singing for the firemen, the SBR singers drove their carts to the ten homes hosting their neighbors for holiday parties to enjoy the carol singers and join in the singing. Each stop provided treats and liquid refreshments before sending us to the next stop.
We want to thank the following residents for opening up their garages/driveways: Charlene and Dan Culver on Flat Rock; Monica and Ron Gustafson on Granite; Nini and Bob Frank on Happy Jack; Sue and Dave Marx on Canyon Vista; Ellyn Biggs on Arroyo Vista; Janet and Lynn Baker on Hyrax; Jeanelaine and Chip Parfet on Arroyo Grande; Peg and Tom Ridolfo on Heron; Judy and Jeff Smith on Pinyon; with the last stop being Char and Dennis Eckmeyer on Summerwind. Here, the last dozen singers were invited into their home for additional songs and libations.  Thank you, Char and Dennis!
Alastair is already looking for 2020 hosts and working on expanding the route for this fabulous event in our community where he can wave his baton for an outstanding group of singers.