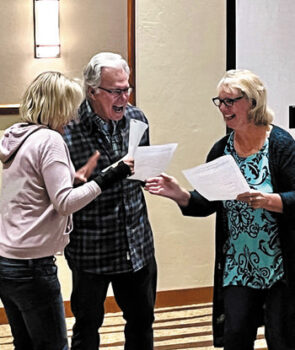 Andrea Molberg
Who's in the "Who Done It?" which playwright Joh Mann describes as "full of murder, mystery, and mayhem"? Auditions for the Community Circle Players (CCP) March murder mystery/dinner theatre production of Spook Light Legacy were held early January.
Director Shawne Cryderman, Assistant Director Al Weigel, and Producer Connie Ward delightedly report that they have chosen the cast: Peter Frank as Mr. Goodrest; Susan Sterling as Mrs. Goodrest; Liz Houser as Helen, the housekeeper; Mark Albrecht as son Hiram Goodrest; Marilyn Ginther as Hiram's wife Anita; Elizabeth Mastro as daughter Lizzie Goodrest; Carol Henry as Lizzie's friend Betty; Jay Schweitzer as Michael; Jim Burke as Theodore; Lydia Strickland as Fanny; and Mark Peterson as narrator Dr. Banker.
New to CCP are Mark Peterson and Elizabeth Mastro, plus Jill and Ken Jepson, who will be handling props.
What's the story line? A dilapidated hotel's elderly innkeepers, the Goodrests, are trying to decide who should take over the business, which has been in their family for more than a hundred years. Spook Light Hotel has quite a history and its share of resident ghostly spirits. To give their father the information he needs to put the right person's name in the will (plus weed out the good from the evil), the adult Goodrest children are invited home for a dramatic family gathering. A murder occurs.
CCP productions are always a crowd favorite, so mark your calendar for an evening of intrigue, comedy, and the opportunity to solve this murder mystery! Performances will be held six nights from March 25 to 31 (there will be no show on Tuesday, March 28) in HOA TWO's MountainView Ballroom.
Ticket sales will be online and begin Wednesday, Feb. 15, via the HOA TWO Calendar of Events website. The "no lines and no waiting" process lets your computer mouse do the work. Simply go to tickets.saddlebrooketwo.com and find Spook Light Legacy. Cost of the live show, three-course meal, and processing fee is $59. After lengthy deliberation, CCP raised prices for the first time in six years "because we want an excellent, delicious, enjoyable meal in this economic time of inflation."
Thanks to the Sound System Replacement project, the new system is compatible with the T Loop for those with hearing issues. Because of the way that the T Loop is hardwired into the building, the "best" T Coil Loop areas of the MV Ballroom will be closer to the walls, as opposed to the center of the room. For more information, please contact CCP co-founders Susan Sterling at [email protected] or Shawne Cryderman at [email protected].
See you there!