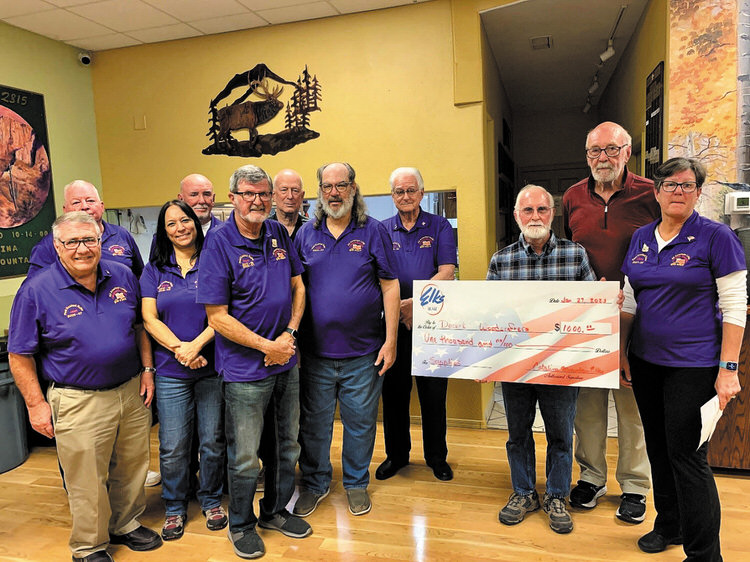 James J. Beregi
In February, the Past Exalted Rulers Association (PERA) made a donation from the Queen of Hearts charity funds.
A donation of $1,000 was made to the Desert Woodcrafters before our Queen of Hearts drawing on Jan. 27. In 2022 this organization distributed 2,292 Pens for Troops overseas through Chaplains and Woodcraft. This put Tucson No. 1 in the U.S. for the third year in row and eight times in the past 18 years with a total of 28,495 pens.
The Woodcrafters' Toy Program started in 2002. Members make toys for preschool and first graders at schools in areas with children in need in south Tucson, plus toys for Christmas for Aviva Children's Services for children who are victims of neglect, abuse, and poverty. In 2022, 3,200 toys were made, bringing the total to more than 42,200.
The Purple Heart Pens program started in 2015. These pens are delivered to the Tucson VA Hospital and veteran's organizations. In 2022, the Desert Woodcrafters made 256, bringing the total to over 1,256. The group also makes boxes for Beads of Courage. In 2022, 83 boxes were made, which brings the total since the program started in 2014 to 933. This year 40 pens were made for Veterans Day and POW presentation for Catalina Elks.