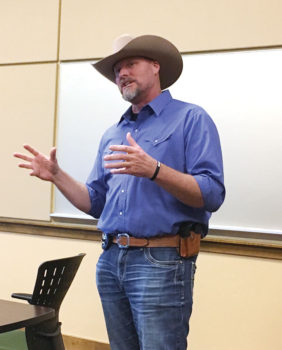 Tom Sorensen
Do you have questions about what all those entities are on your tax bill?
What is the Senior Freeze? What are the Exemptions?
Save the date! Please come to hear about issues and services regarding your property taxes, learn about how to understand your tax bill and have your questions answered by our Pinal County Assessor Douglas Wolf. Mr. Wolf will speak to us on Thursday, February 7, 2019. SBR residents always look forward to hearing Mr. Wolf, a very enjoyable speaker!
On Thursday, December 6, 2018, the SaddleBrooke Ranch Citizen Awareness Forum hosted Pinal County Sheriff Mark Lamb and several others involved in community programs.
Sheriff Lamb spoke to us about the Pinal County Sheriff's Office (PCSO) Angel Initiative, part of the Governor's program to assist those with drug and prescription drug addiction. Sheriff Lamb will head up the Redirection Mentorship Program that will mentor juveniles that acknowledges they made a mistake, but others are there to help highlight the good points in their lives, which puts them on a better track. The Posse program assists the Deputies as needed, such as in transporting, so that the Deputies can continue their jobs. Women and men are involved in the COP program "Citizens On Patrol," which assists with education of the public about issues like child seats, traffic control at events, house-watch programs, foot patrol and doing fundraisers. They will also be assisting with the "Shop With The Sheriff" for the holiday season.
Residents attending the forum had many questions for Sheriff Lamb and his assistants ranging from the kind of communications they use, to the recent TV programs the PCSO has been featured in. (Check your TV listings the first week of January for the new program Pinal County has been participating in.) Sheriff Lamb is very pleased with the positive response of the Pinal community as many citizens are engaged in these programs. Qualified volunteers are welcome! We always look forward to Sheriff Mark Lamb coming to the SaddleBrooke Ranch Citizen Awareness Forum and telling us about the PCSO!
The SaddleBrooke Ranch Citizens Awareness Forum meets in the La Mesa/La Montana Rooms the first Thursday of each month from 4:00-6:00 p.m. to present or discuss issues that are of interest to the residents of SaddleBrooke Ranch, what affects our property taxes, our personal taxes, meet invited guests, participate in the civic processes and become aware of policies of the nation, Arizona and Pinal County. We welcome all residents to participate.