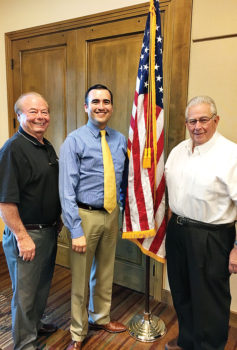 Tom Sorensen
It was a busy September meeting for the Citizens Awareness Forum. After the pledge to our country's flag, Tom Sorensen greeted the SaddleBrooke Ranch residents and introduced our Legislative District No. 8 State Senator Frank Pratt, State Representative David Cook and State Representative Thomas Shope. Tom informed us about several news worthy items.
Tom introduced our speaker, Mark Miller, tax accountant of MJM Income Tax Services on Oracle Road in Catalina. Mark gave an excellent presentation on the new tax law, commonly called the "Tax Cuts and Jobs Act," which is the biggest federal tax law change in over 30 years. Many questions were asked of Mark regarding what provisions were eliminated, reduced, increased or added. Many SaddleBrooke Ranch residents come from other states; therefore, Mark informed us about Arizona tax credit contributions. We much appreciated Mark's PowerPoint presentation and two-sided handout so that as the year progresses we better understand our income tax situation.
In addition to the nominated candidates and judges, it is the time to begin to research and understand what other important issues will be on the coming 2018 general election ballot. Carol Sorensen presented a short explanation of the propositions you will be asked to vote on. We were fortunate to have with us L.D. No. 8 Sen. Pratt, Rep. Cook and Rep. Shope to answer our questions. As each proposition was displayed, we had a short discussion as to the language used and meaning of the proposition. It is vital we understand that our vote on these propositions is important and all must first learn how they will affect us and our state before we vote!
Citizens Awareness Forum meets in the LaMesa/LaMontana Rooms the first Thursday of each month at 4:00 p.m. to present or discuss issues that are of interest to the residents of SaddleBrooke Ranch, what affects our property taxes, our personal taxes, meet invited guests, participate in the civic processes and become aware of policies of the Nation, Arizona and Pinal County. We welcome all residents to participate.
Our next forum is on Thursday, October 4 at 4:00 p.m. To receive announcements, email Carol at [email protected]