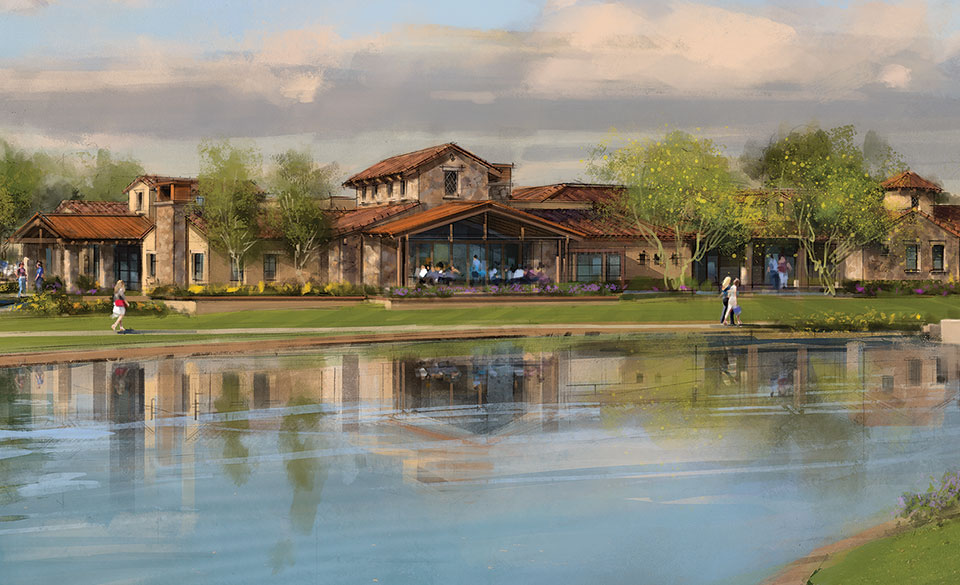 Sherry Jackson,  RCI Corporate Communications
Construction continues on the new $15 million clubhouse and restaurant at SaddleBrooke Ranch with most of the exterior framing complete and drywall beginning to take shape.
The new clubhouse facility will feature a sophisticated yet casual elegance with popular amenities including a ballroom and auditorium with stage, a full-service grille and u-shaped bar with a large patio overlooking the lake, private dining room, relaxing fireside lounge area and outdoor terraces.
The interior of the building will be light with a large expanse of windows and clean lines. The color scheme will include warm greys, neutrals and earth-toned camels, with pops of rusty-reds and gold-toned yellows contrasting colorful, jewel toned artwork.
"The architectural details and the style of furnishings will allow the beautiful natural materials and details as a backdrop to colorful artwork and sculptures," said Carissa Thompson, Design Director, Kimberly Timmons Interiors. "The concept is based on the philosophy 'modern living in the spirit of tradition,' paying homage to the rich history and unique landscape of the Arizona landscape, yet designed in a fresh and unique style."
The 40,000 square-foot clubhouse will have a lot of stone, sanded brick and dark wood beams. Wood flooring and travertine will be spread throughout, and the banquet room will have portable partitions that can be sectioned off. "This is going to be an incredible building," says Scott Sides, Construction Manager, Robson Communities.
The project is slated to be completed February 2018.
The $3 million Creative Arts Center, with seven rooms for activities such as woodworking, pottery/sculpture and ceramics, is also under construction and is projected to be completed by the end of 2017.