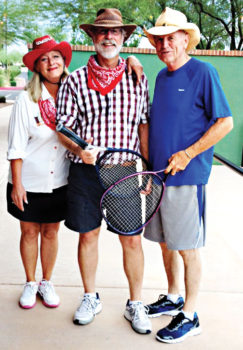 Sandy Schlager
On Monday evening, July 18, the SBRTA hosted "Cowboy Tennis." Members dressed in their best western duds, sans the fabulous cowboy boots, and enjoyed playing tennis under the stars. Well, it was actually monsoon clouds, but the stars were there somewhere. Western/cowboy music played in the background. All participants agreed it was a fun, social evening and suggested that similar events be scheduled in the future. Thanks to Sheila Bray, Events Chairperson, for organizing this themed tennis occasion.
Remember to save the dates November 4 and 5 for the annual Steiness Tennis Festival. A dinner is planned to follow completed play on Saturday. Although there are no dates yet, a rating clinic and pro lessons are planned for the fall. Watch for more details about each of these events.
In the meantime enjoy tennis with friends at one or more of the organized events scheduled each week. There are women's doubles, men's doubles, mixed doubles and a weekly development clinic. There's something for everyone. For more information please go to our website at www.saddlebrookeranch.org/tennis.
See you on the courts soon.