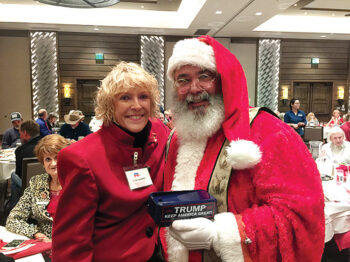 Karen Lanning
Thanks to the vision and hard work of the ladies of the SaddleBrooke Ranch Republican Women's group, a very enjoyable and well-attended holiday luncheon for all Republicans was held in the Sol Ballroom on Dec. 16, complete with Santa and his elves! Led by Carolee Bailey, the Advisory Committee, and Marion Ewing, the Chairwoman of this event, a fun time was held by all and the meal did not disappoint.
Through the generous donations of more than 20 items from group members, there were many happy faces at the end of the raffle and door prize giveaway! Among the fantastic prizes was a beautiful hand-made quilt donated by Dianna Still, a stunning hand-made cutting board donated by Terry Pettijohn, an original water-color painting donated by Susan Swanson, hand painted wine glasses donated by Marion Ewing and a round of golf for two donated by Mike Janaske. Many thanks to all who so freely gave of their time, talents, and treasures.
Kay Lantow arranged for the keynote speaker, Mr. Jeff Utsch, Founder of the Heirs of the Republic and a Constitutional scholar. Mr. Utsch has trained tactical swimming to Navy Seals for the past 25 years (and, yes, ladies, he was in very good shape!).
The topic of Mr. Utsch's presentation was "Do You Still Believe?" (i.e. in the Constitution). He proceeded to give a history of the Constitution, its continued relevance today and how it still forms the cornerstone of this great country. Mr. Utsch concluded the program with an entreaty to be "truthful, fearless, and kind," certainly words we can all strive to live by no matter where we may be coming from, especially during the season of peace and love.
The Republican Club wishes all at SaddleBrooke Ranch a vibrant, happy, and healthy 2020. Meetings of the SBR GOP Club are held the third Monday of the month from 3:30-5 p.m. The Women of Action group meets the fourth Monday of the month from 10 a.m.-noon. Both meetings are held in the La Montana Room at the La Hacienda Club.