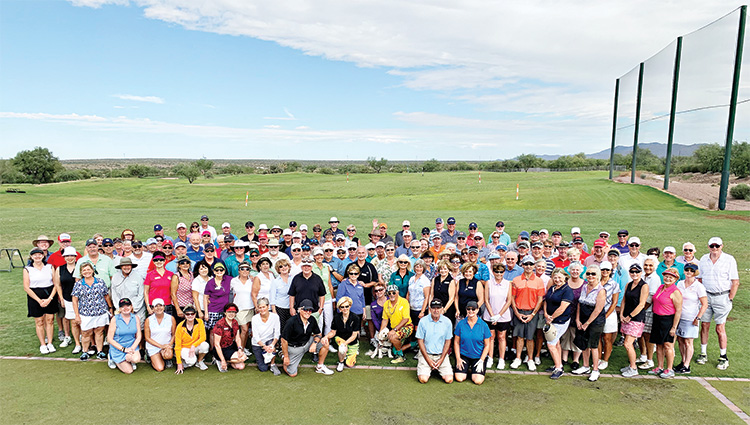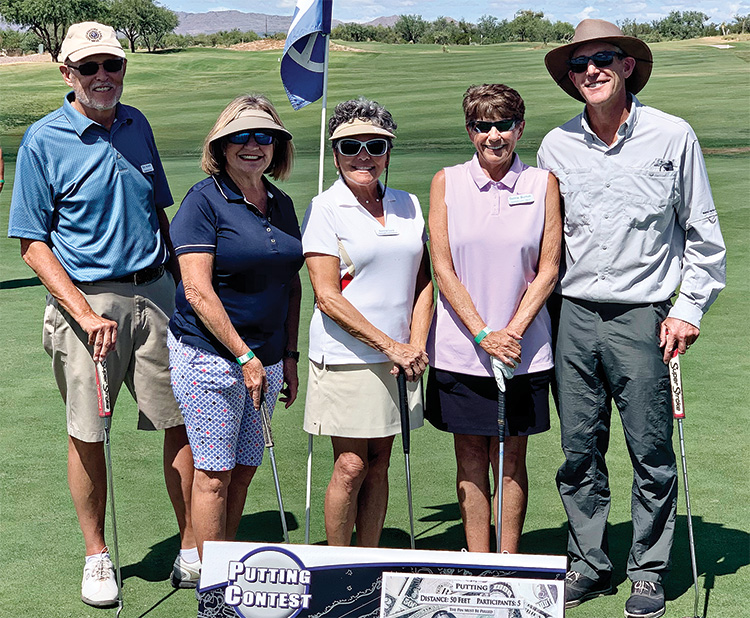 Janice Neal
Robson Resort Communities sponsored the SaddleBrooke Ranch third annual Golfer Appreciation Day on Sept. 15. The Golfer Appreciation Day benefitted SaddleBrooke Community Outreach and The First Tee of Tucson. $4,700 was collected, and $2,350 was donated in a presentation each to SaddleBrooke Community Outreach (SBCO) President Steve Groth and Paul Knott of The First Tee of Tucson at the luncheon.
It was a beautiful Sunday morning, and this year's celebration of golf consisted of three activities. One hundred forty-four residents signed up for the golfing event—a 9-hole modified scramble competition, which is a relaxed version of golf where all skill levels contributed and had fun! The event was designed to include golfers at all levels. The teams were a randomly assigned mix of men, women, golfers, and putters. The fee for the event was $10 per person. Half of the golfers each played the front or back 9 holes. No handicaps were required, and some teams had very good scores! Prizes were awarded for longest putt and closest shot to the hole.
The putting contest was held on the chipping green. There was a $5 entry fee, and 85 people signed up. The top five putters qualified for the finals and had the opportunity to win $1,000. Donna Burton and Donna Lura each qualified for the final with holes-in-one, and Steve Hanns, Robert Horwitt, and Nancy Hugus qualified as being closest to the pin in the semi-final. The final was held on the ninth green after lunch. Unfortunately, no one won the big prize, but it was very exciting. The sponsor for the putting event was Thompsen Consulting, LLC.
Raffle tickets were sold throughout the community at various events for $1. Forty sponsors donated gift certificates, rounds of golf, and lovely gifts. There were more than 90 prizes. The winning tickets were drawn Sunday morning for all of the lucky winners.
A delicious taco bar lunch was provided after golf in the Ranch House Ballroom.
Sam Rossi, president of the SaddleBrooke Ranch Men's Golf Association, coordinated the wonderful event with the help of other members of the golfing community, Jean Cheszek, Jack Gressingh, Jacque Hendricks, Paul Knott, Janice Neal, and Susan Pharr. Special thanks go to Mark Giannonatti, Mike Jahaske, Ken Steinke, and Chris Blake of Robson Resort Communities, which sponsored the golf outing, course prizes, and luncheon.