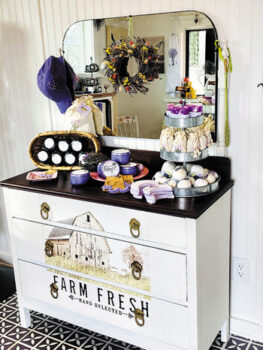 Carolyn Blair
Life Under the Oaks Lavender Farm has exciting news for the SaddleBrooke Ranch Community. Thanks to the love and support of many at SaddleBrooke Ranch we have finally completed an on-site gift shop at the Lavender Farm in Oracle! As many of you know, we have had a brick-and-mortar shop at the Trading Post for almost four years. Though we are so grateful and appreciative of Sue and Jerry, it will be nice to finally have the Lavender Boutique at our actual farm! It is a small cottage, but it is quaint and built with fine craftsmanship! It will also be more convenient and less confusing for our guests. Also, having the boutique on the premises will allow us to have the farm open more frequently. Thus, we will be open five days a week, Wednesday through Sunday from 10 a.m. to 3 p.m. We hope you can come and celebrate this long-awaited day with us on Feb. 18!
Along with the grand opening, we are hosting a Valentine's Day event. The cost is $17 per person, which includes hot cocoa, lavender lemonade, cookies, and free crafts for children. Children 12 and under are free. You can still visit the Lavender Boutique and not pay the entrance for the special event. Please purchase tickets through www.lifeundertheoakslavenderfarm.com if you would like to attend the Valentine's event.
We have worked for many years to accomplish this goal. We couldn't have done it without the love and support of our lavender friends and family! Thank you!