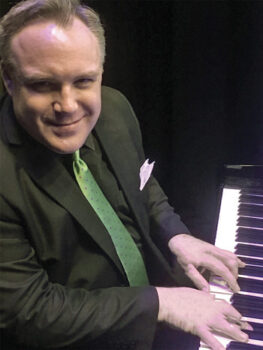 Cheri A. Emahiser
Daniel Slipetsky, Jr., is known as Sly and as a terrifically talented professional jazz artist. Sly will accompany the SaddleBrooke Singers on piano for their Dec. 10 holiday performance titled "A Christmas Odyssey." You don't want to miss this musical experience taking place on Saturday evening at the DesertView Performing Arts Center. Tickets are available at dvpac.net.
Sly first touched the piano keys at age 8, then at 14 picked up the tuba, which he also plays professionally. Like many accomplished pianists, he is a fan of familiar classical composers such as Chopin, Brahms, Beethoven, Mozart, and Schumann. However, jazz is the performance music he typically plays. He is influenced by pianists and composers Duke Ellington, Dave Brubeck, and Erroll Garner. The trumpeter Clifford Brown and the cornetist/pianist Bix Beiderbecke are also favorites. And despite George Winston not being considered a jazz artist, Sly is still an admirer of the pianist/guitarist.
Sly performs with various vocalists, a salsa/Latin jazz band, and The Arizona Banjo Blasters, a traditional Dixieland jazz band where his tuba playing can be heard. Given the opportunity he loves playing accompaniment for theater performances. Sly states, "As the Irving Berlin song goes, 'There's No Business-Like Show Business.'"
Over the years, Sly has learned valuable lessons from a variety of people, including a professional guitarist who advised he learn and memorize as many songs as possible. When pressed, Sly will modestly reply he plays from memory 500 to 600 songs. One of those songs is Piano Man by Billy Joel—one of his most requested tunes.
Sly has lived in Arizona for nearly 25 years and loves it. He says moving here from Delaware, The First State, "to the Grand Canyon State back in the summer of 1997, when I was 23, was one of the best decisions. I really enjoy what I do for a living; I like to convey that joy to my audience."
One of the best decisions you can make is to buy tickets to hear the SaddleBrooke Singers' lovely Christmas melodies with Sly playing his astonishing accompaniment. You will be delighted and amazed to have heard such an enjoyable holiday concert.
Contact Sly at [email protected]. For more information about the SaddleBrooke Singers, phone Claudia at 520-306-2113 or visit our website at saddlebrookesingers.org.