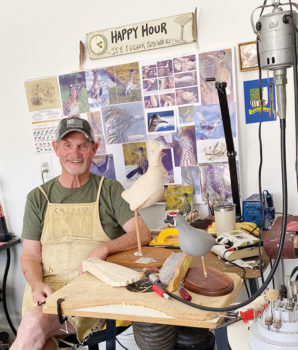 John V. Callahan
Hello, my name is John. My wife, Judy, and I just relocated from Lodi, Calif., in November. We are renting a villa while our new home is being built here at the Ranch. I have been a bird carver since the 80s, where I began learning to carve because I couldn't afford to buy one. I bought a book with instructions on carving and painting a mallard drake. When I finished it, my wife said it needed a mate, so I carved a female mallard to make a pair. Then came many more. Coming to Saddlebrook Ranch has been great so far, but the sequester has certainly been a distraction to the normal lifestyle here. I have been able to set up a small workspace in the two-car garage that competes with garbage cans. I have two projects underway—a life-size roadrunner and Gamble's quail. In the past, I have carved ducks and birds native to the northern California/Sacramento Valley area, but since relocating here, I will carve native birds of the desert. The woodshop in the Arts and Culture Center has been closed of course, but I was able to join there and used the equipment to rough out the roadrunner. I sold my table saw, band saw, chop saw, and multiple sanders when we moved, because the woodshop has all these tools and many more available when you join. Bird carving is a great hobby that requires more than just carving. I collect as many pictures of the bird and as much reference material to learn about it. I use VHS, DVD, and CDs to accurately carve and paint the subject. Over the years, I've competed in contests all over the USA, and the judges are looking for accuracy.
I have been busy during this slow down around here, but my hobby allows me to carve in my temporary garage workspace.
If anyone is interested in carving birds, let me know, maybe something can come from it. I've taught carving classes in the past; maybe in the future?