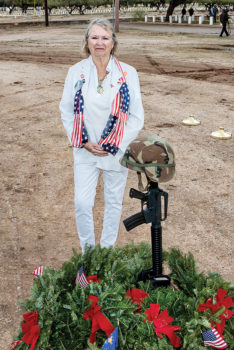 Kay Lantow
Honor our veterans and their families on Monday, Oct. 21, at 3 p.m. at the Ranch House Grill and Brewery Sol Ballroom.
Kelly Laurich of the Tucson Veterans Administration will tell us how the Fisher House supports our Blue Star families while their wounded warrior receives treatment at the V.A. hospitals throughout the country.
Tucson Gold Star Mother Sheron Jones will speak to us about the Wreaths Across America annual Remembrance Ceremony, her son's life and sacrifice, and introduce the newly installed memorial statue at Evergreen Cemetery, plus the new challenge coins dedicated to Gold Star Families.
A special guest will sing an exceptional rendition of the Star Spangled Banner.
While the SaddleBrooke Ranch Republican Club sponsors this event, all are invited.