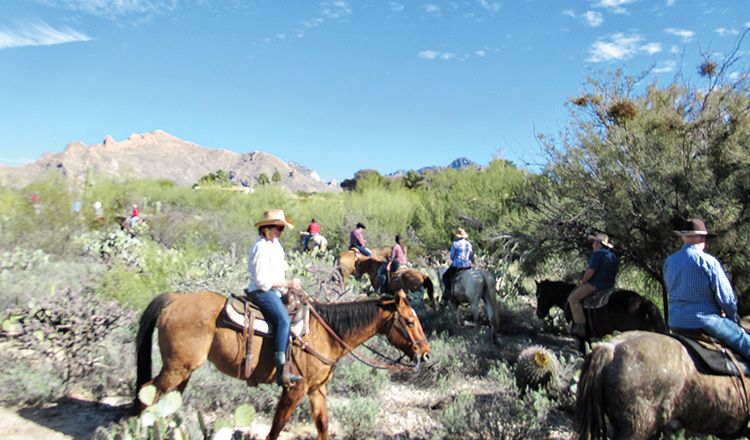 Rebecca Williams
The horseback riding group enjoyed riding through the foothills of the Catalina mountains at their December 14 ride at Westward Look Resort. The ride took them up the gentle slopes of the foothills and through stands of cacti and brush. There were some great views of the Catalinas as well as the city of Tucson. The group chose this convenient location so that the inevitable holiday errands could be tended to after the ride.
The group rode at Donnelly's D-Spur Stable in Gold Canyon, near Apache Junction, on Saturday, Feb. 1. This location works well in the early spring as it is just a bit warmer near the Phoenix area, and sometimes flowers are already peeping out.
Other rides being considered for spring include the popular ride at Colossal Cave Mountain Park in Vail and perhaps a breakfast ride at Tanque Verde Guest Ranch. The group continues to hope for a new stable to open with rides into the Catalina State Park from nearby Oro Valley or Catalina.
If you are interested in the group's activities, go to the SaddleBrooke HOA website, "Things to Do" – "Clubs." In the middle column is a link to the "Horseback Riding Group." Click on that,  then click the link under the information for the secretary, Rebecca Williams. There you will see a web page about the group's activities where you can see the "Read News" section for upcoming rides. If you would like to participate, simply click on the link at the bottom left of the page, under "Contact Us." Give your name, the ride you want to join, and the time, if there is a choice. The secretary will get back to you with a confirmation and can help with any questions you may have. You can participate as often as you chose. All rides are one hour and at a walk, just to enjoy the scenery.