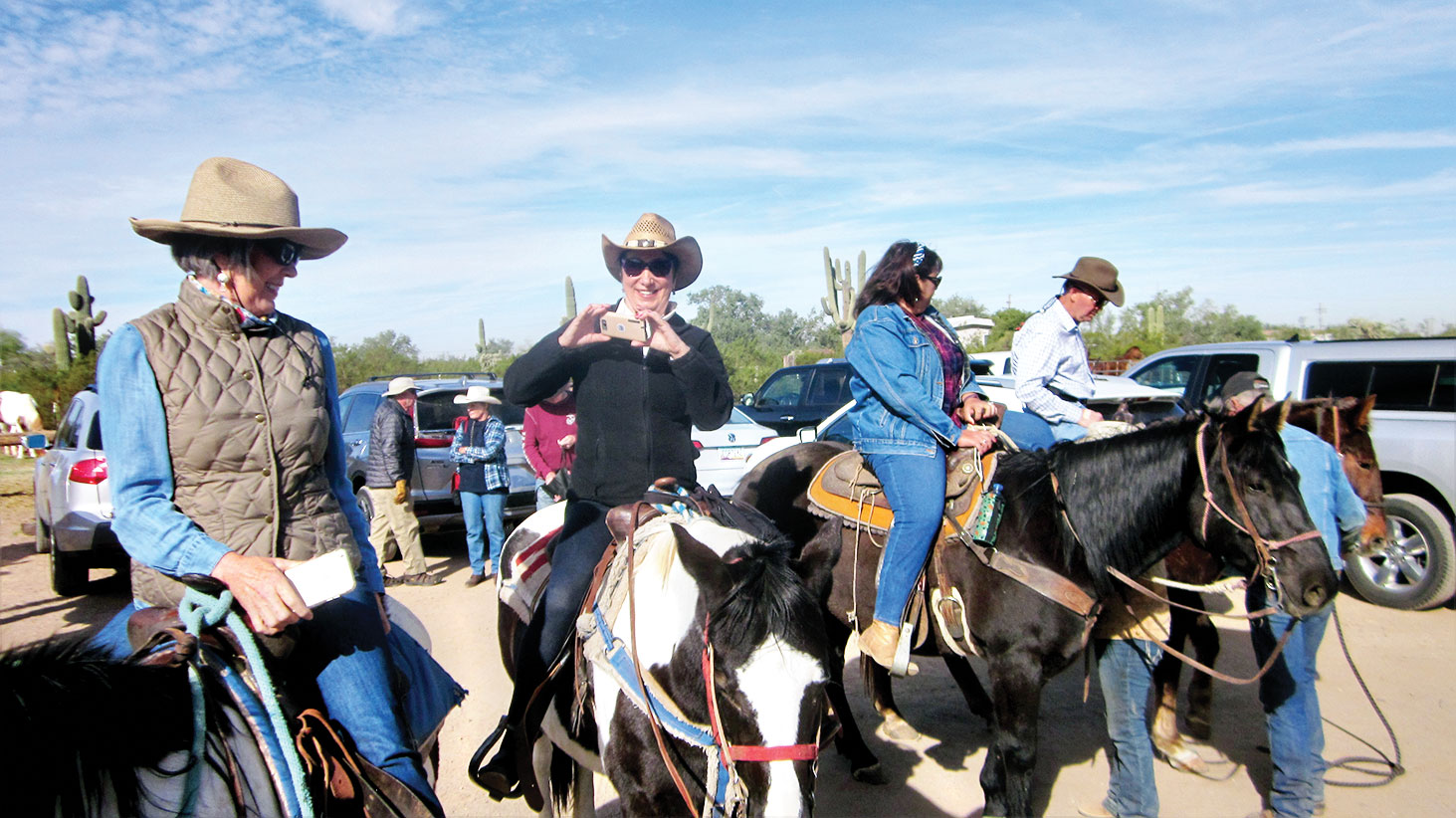 The Horseback Riding Group tried a stable new to the group out in Marana on Saturday, November 15. The Tucson Mountain Stable rides on the same trails as the White Stallion Ranch. The trail winds through some desert vegetation and then rises onto a small bluff with a magnificent view of all the surrounding mountain chains.
With the return of snowbirds, the group of 13 included new riders Lauren French and Randy and Audrey Gelb. Audrey mentioned that when they were first considering moving to Arizona, they had pretty much settled on moving to Phoenix. Then they had the opportunity to stay at the White Stallion Ranch resort and fell in love with Tucson. They recently moved into their new house at SaddleBrooke Ranch.
The group rode at Old Tucson on Saturday, December 15. The first ride of the New Year will be on Groundhog Day, (Saturday, February 2) at Donnelly's D-Spur Stable in Gold Canyon. This is a favorite ride in the cool winter as it is on the eastern edge of Mesa and lower in elevation for a little warmer weather. This ride has a great view of the Superstition Mountains usually followed by lunch on the patio of the nearby golf club.
The SaddleBrooke Ranch Riding Group is open to any SaddleBrooke Ranch resident. If there is room on a ride, residents may also invite guests. There is no need to attend all of the rides. Come to the rides that fit into your schedule. The group's secretary coordinates the reservations. Prior experience is not required. The rides are typically one hour to 90 minutes at a walk, just to enjoy the scenery.
If you are interested in more information on the SaddleBrooke Ranch Riding Group, please look at the Horseback Riding website under "Clubs" on the SaddleBrooke Ranch HOA site. After clicking on the square tile, click the blue "Horseback Riding" link to be taken to the site. Sign up is easy; just click the "Contact Us" button, enter your name and either the name of the stable or the date of the ride, and click "Submit." The club secretary, Don or Rebecca Williams, will confirm back your reservation by email.