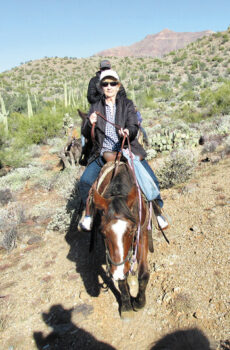 Rebecca Williams
The SaddleBrooke Ranch Riding Group had a perfect day of cool weather and clear blue skies for their ride on Dec. 10 at Donnelly's D-Spur Ranch in Gold Canyon just east of Apache Junction. The venue is generally just a bit warmer than the Ranch and offers magnificent views of the Superstition Mountains as well as surrounding mountain ranges in the Tucson area.
This stable is unique in that they raise about 80 head of Texas Longhorns that are generally grazing out on the state land that abuts the stable. Some of the cattle were also up by the house, so the riders could see them there. There were wonderful stands of saguaro cacti. One of them was estimated to be around 500 years old. The guide talked about the mining that used to be done in the area in the past and the Lost Dutchman mine and museum, which is located just to the west.
The group will take a break now to avoid the cold. Rides will resume in early February. The next ride will be on Saturday, Feb. 4. It is hoped that a ride can be done in a nearby county park. Check the website in January for further information.
If you are interested in the Horseback Riding Group's activities, go to the SaddleBrooke HOA website, "Things to do," and "Clubs." There in the middle column is a link to the "Horseback Riding Group." Click on that and then the link under the information for the secretary, Rebecca Williams. There you will see a web page about the group's activities and can see the "Read News" section for upcoming rides.
If you would like to participate in a particular ride, simply click on the link at the bottom left under "Contact Us," give your name, the ride you want to join, and the time if there is a choice. The secretary will get back to you with a confirmation and can help with any questions you may have. You can participate as often as you choose. All rides are one hour and at a walk, just to enjoy the scenery. Upcoming rides are posted on the website, and the secretary will also send an email to past participants. Happy Trails!