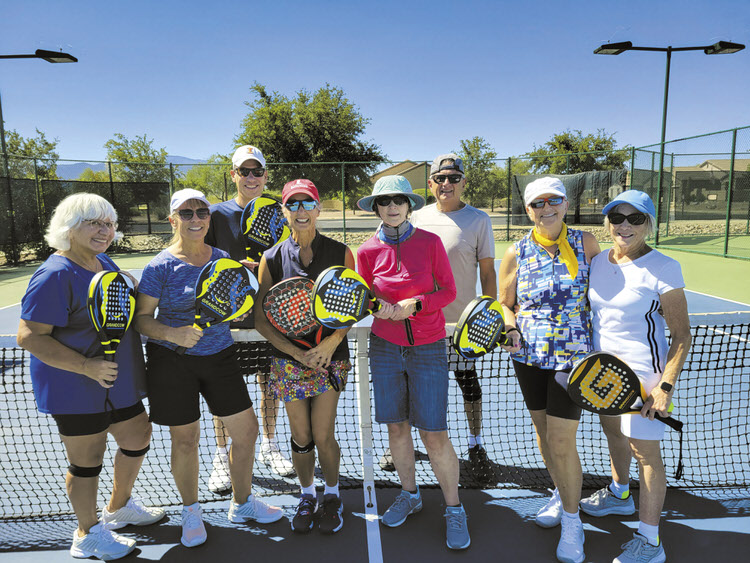 Kathie Marshall
On any given day, you will find people having a blast on the tennis courts, but it's not all traditional tennis. The Saddlebrooke Ranch Tennis Association (SBRTA) has added a new sport that is a slight variation on tennis. The game is POP Tennis—it takes in all the fun of tennis and combines it with a court and equipment that make the sport easier to play. Like pickleball, POP Tennis can be learned quickly and can be played by people of all ages and abilities.
POP Tennis is played on a shorter court (three regular tennis courts, 4-6, are painted with a POP Tennis baseline). The POP baseline creates a shorter court by 9 feet. POP Tennis is played with shorter, solid (no strings) rackets or paddles and lower compression tennis balls. The same court is used for both singles and doubles, with doubles being the favored form of play. The smaller court size adds a strong emphasis on net play. Like pickleball, net play creates a fast and reaction-based game. For tennis players transitioning to POP Tennis, the scoring method is the same as in tennis (with matches the best of five sets). The ball bounces lower than tennis but higher than pickleball. Like pickleball, serves must be underhand, but unlike tennis, only one underhand serve is allowed. A second serve is allowed only in the event of a net ball that lands in bounds.
SBRTA has a new group of POP Tennis enthusiasts called the POPATEERS. POPATEER and tennis club member, Debbie McGiboney, describes her love of the sport and special group, "I enjoy POP Tennis as a great sport to switch up my weekly tennis routine. The combination adds up to a lot of fun for fellow teammates. It is a good sport for beginners as well as competitors of all ages." The POPATEERS meet regularly on Thursdays from 9 to 11 a.m. on courts 5 and 6. They welcome new players and can even supply rackets and balls for you. Our tennis association also hosts periodic "learn to play" events, with the most recent held June 25 in conjunction with an ice cream social event. Teaching pro Chris Madsen was on hand to offer coaching on POP Tennis rules and strategies.
If you are interested in being a part of all the fun, consider joining the SaddleBrooke Ranch Tennis Association. Membership is just $35 for calendar year 2023. To become a new member, follow these easy steps: 1. Log in to courtreserve.com. 2. Click "Login" on the top bar. 3. Click on "Don't have an Account?" 4. Click on "I'm a Player." 5. Type "SaddleBrooke Ranch Tennis Association." 6. Click on the green box: "Create Account at SaddleBrooke Ranch Tennis Association." 7. Fill out the form with your information and click "Create Account." Or from the HOA website, click on "Fitness," then "Tennis Court Reservations," and on" Create Account" (screen upper right). Hope to see you on the courts!