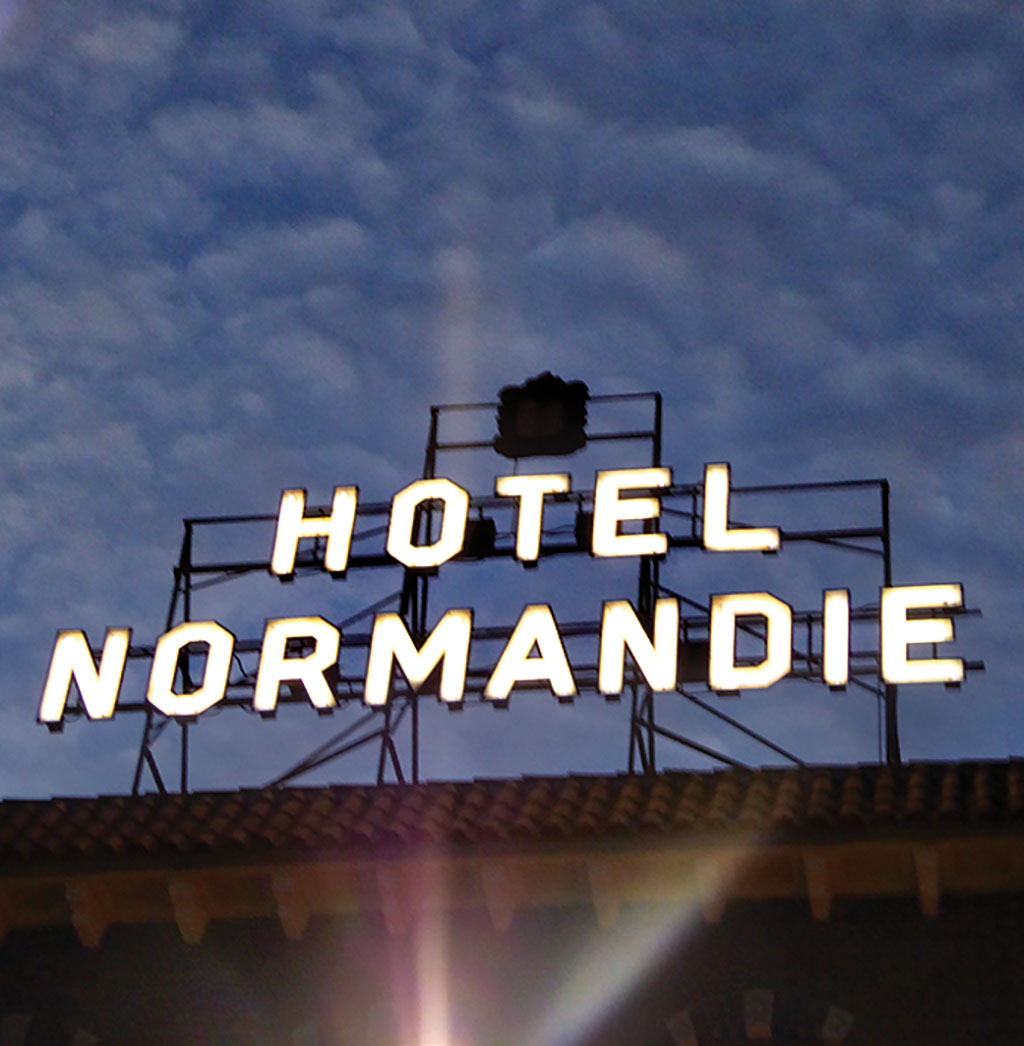 Jean Morgan
How many of us get the chance to go back and sleep in the place we grew up? Recently my husband Mark and I were invited to spend several nights at the newly renovated Normandie Hotel in downtown Los Angeles. What a thrill to stay in a guest room that had been my parents' room (one of a four-room suite and now individual rooms). Built in 1926, the Normandie Hotel was designed by Walker and Eisen, architects famous for the Beaux Art Building and the Beverly Wilshire Hotel.
I grew up in the Normandie from the ages of seven to 16. When I lived there it was a retirement hotel, and it was beautiful even then. It was a very exciting time from the late 1950s into the 1960s. Because I was an only child living in an adult world my parents got me a Sun Club membership at the famous Ambassador Hotel, which was four blocks away. I met many movie stars, sneaked into the back of the Coconut Grove and shook hands with John F. Kennedy during the 1960s convention. From the roof of the Normandie I could see the Griffith Park fire and Watts burning. We subsequently moved to Tucson, Arizona, my senior year in high school.
In 2010 my connection with the Normandie was re-ignited. After spending all day visiting my hospitalized husband I had a sleepless night, and in researching the Normandie, read about the changes after my parents left. It was purchased by architect Jingbo Lou who fell in love with its Renaissance Revival exterior. When he received my private Facebook message he was so anxious to meet me that he could barely wait until he could come out to Phoenix to interview me. After a four-hour interview with a videographer he took us all to dinner and promised to invite us to the grand opening.
The grand opening never occurred, but in December 2015 architect Jingbo invited Mark and me to be his guests at the Normandie. He gave us the grand tour of the newly restored 100-room boutique hotel including areas that I did not remember as a child. The piano on which I was given lessons by a retired teacher is still proudly standing in the lobby today. The original wood floors are gleaming. A great deal of effort went to restoring the beautiful details that make the Normandie Hotel a very special Los Angeles icon. My parents would be so very proud.