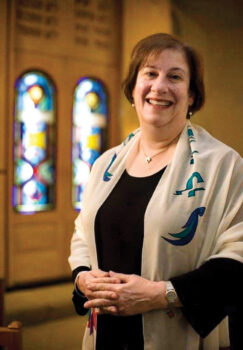 Melanie Einbund, IJSS Secretary
During the summer months of June, July, and August, services will not be held. Members will receive notice of High Holy Day services.
Institute of Jewish Services (IJSS) welcomes Rabbi Laura Harari to our pulpit.
When first interviewed about this position, Rabbi Harari expressed that she was excited and thrilled for the opportunity to serve as our rabbi. She is familiar with IJSS, having taught a class for us in the past. As we spoke for this article, Rabbi Harari stated that she is delighted to be our new rabbi. Rabbi Laura looks forward to being welcomed into the community. The rabbi describes herself as a people person, truly finding interaction with others wonderful. One of her wishes is to get to know people on a personal level.
As the rabbi will tell you, Jewish learning and activities are her natural path. Jewish education is a lifelong passion, with the joy of giving back to those she meets along her way.
A bit of background information: Rabbi Harari is a Chicagoan—born and bred.
As she was growing up, Rabbi Harari's interest in Judaism was developed through the involvement and influence of her parents. Early on, her family was engaged with Reform Judaism and helped found B'nai Torah Temple on Chicago's North Shore.
Rabbi Harari grew a passion for Jewish learning. A major influence was a rabbi who had both an intellectual and dynamic personality. He saw her abilities and helped her grow.
Jewish learning was encouraged through the synagogue and Jewish camps. Her experience at camp began as a camper, later becoming assistant director. Another pivotal influence was spending a high school year in Israel. Rabbi Laura cites this as the beginning of her relationship with Israel. The experience shaped her life, making Israel a natural and meaningful part of her life.
The rabbi, who knew Rabbi Harari as an exchange student, hired Rabbi Harari for a teaching position at the Leo Baeck High School in Haifa. Subsequently, Rabbi Laura spent 14 years living in Haifa, where she met her husband (a rabbi) and had her daughter (also, a rabbi).
Judaism became integral to her life. Rabbi Harari assisted others in bridging the gap between their secular lives and Jewish lives.
The rabbi returned to the States to be close to her parents and have them get to know their granddaughter. As well, she continued her professional life, holding supervisory positions in Jewish education posts, which included training other teachers through the Bureau of Jewish Education.
Not being able to put aside her calling to become a rabbi, our rabbi began her rabbinical studies in 2005 at the Los Angeles campus of Hebrew Union College, so as not to conflict with her daughter's rabbinic studies in Cincinnati.
After ordination, pulpits included those in Jackson, Tenn.; Waco, Texas; and director of a Jewish high school in San Diego, among others. Rabbi Laura cited a major achievement during her time in Waco, as president of the Greater Waco Interfaith Council, was the creation of a program called Festival of Faiths. This program brought together the cultures, foods, and customs of different faiths including Judaism, Buddhism, Islam, and Christianity.
The rabbi's ability to be flexible in geographical locations and custom situations allows her interpersonal skills and Judaic education to complement each other, as she moves forward in guiding and assisting others.
Currently, Rabbi Harari resides in southern California, close to her family. She will be travelling to SaddleBrooke when we meet in person again.
Our rabbi values personal and congregational connections, believing holy things happen through interactions with people.
Rabbi Harari is thrilled to be part of the IJSS community. We welcome Rabbi Laura and all that she brings to our pulpit.