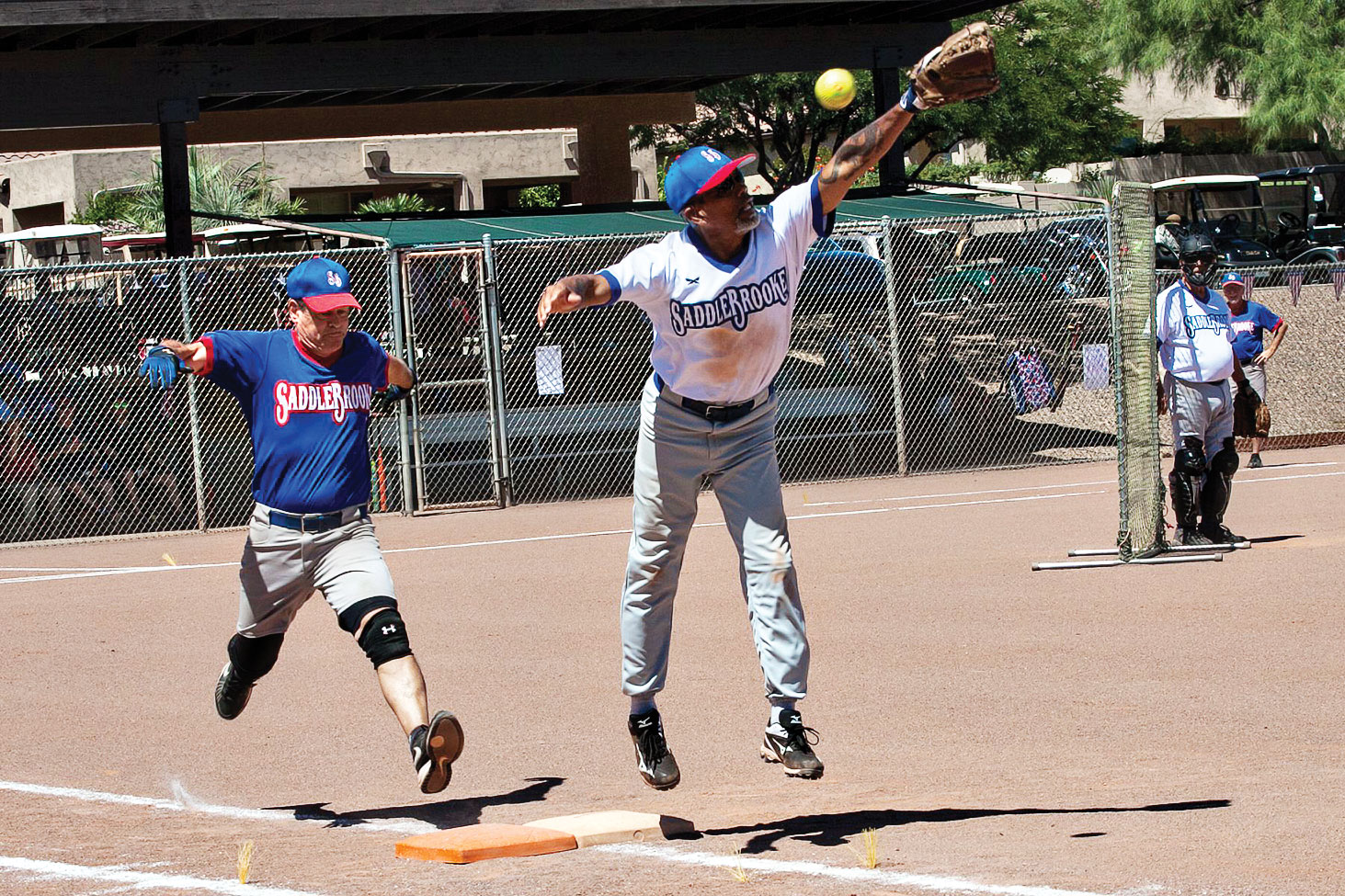 Mark Hojnacki
Sunny skies and temperatures in the 80s high-lighted another successful SaddleBrooke Senior Softball Labor Day Tournament. A crowd of nearly 300 SaddleBrooke residents and visitors were treated to three well-played games, enjoying hot dogs, brats and other refreshments provided by our sponsor, Hardin Brothers Automotive. The opening Competitive Game pitted the visiting DS Builders & Remodeling versus Kerri Blount -Long Realty. After the first four innings the score was knotted in a 10-10 tie with the home team taking the lead after six 18-15. But poor fielding by Blount Realty and timely hitting in the top half of the seventh broke open the tight contest with the visitors taking a commanding 26-18 lead. Five runs by the home team in the bottom half of the frame weren't enough, DS Builders prevailing 26-23. The victors were led by Gus Marano with five hits and four hits each by Harold Weinenger, Bob Chiarello and Ken Crossman leading the winners 37 hit attack. The losing Blount Realty team's top performers were Charlie LaNeve with a stellar five for five performance and Ed Clark with four base knocks.
In the first of two Community/Coyote League games the visiting Hardin Brothers Automotive downed SaddleBrooke Remodeling 17-7. The visitors took a commanding 8-2 lead after three innings and were never threatened. The 25-hit victory attack was led by J.D. Davis and Jason Noffsinger, each with four hits. Rick Ervin, Ryan Mitchell, Tim Malone and Mike Hoedel each added three hits. In a losing effort Ray Szpakowski went three for three. Ken Beals, Eddie Lopez and Debbie Seguin each added a couple base hits.
The second game of the Community/Coyote doubleheader saw the visiting Patrick Shaffer, DDS squad down SaddleBrooke Remodeling 16-14. The visitors were up early and looked like it was headed for a rout. But SaddleBrooke Remodeling came back in the fifth and sixth with nine runs to make it 15-13 heading into the open inning. Each team scored one in the seventh with the tying runner on base when the final out was recorded. The winning team was led by Ron Romac and Alan Stein each with four hits. Ken Beals led the losers with four hits with Tom Klem, Charlie Kennedy and Jerry Cowart adding three hits each.
Many thanks to all our volunteers who donated their valuable time to make this an enjoyable day for our association and the spectators. Without the assistance of our umpires, scorekeepers, photographers, food service and set-up/takedown crews, we could not put on this event each year. Special thanks to King Mitchell and Leroy Johnson for manning the announcing and music and to Doug Wagers and the Window Wizard team for grilling up the lunch. We thank the many residents in attendance who enjoyed our free refreshments while watching senior softball. We are very appreciative for those who donated to our association in exchange for watching hard working senior athletes perform on the softball field. SaddleBrooke Senior Softball Association welcomes all residents who wish to give it a try, just show up on any Wednesday and/or Saturday morning for open practice. A member of our association will welcome you and you can see if you can resurrect your youthful skills at fielding and hitting a softball. More information about our leagues is on our website, www. saddlebrookesoftball.com. Questions? Call Mark Hojnacki at 817-727-0068.
Our next community event is on Veterans Day, November 12. Fall leagues commence on Monday, October 8. Come out to watch a game anytime!