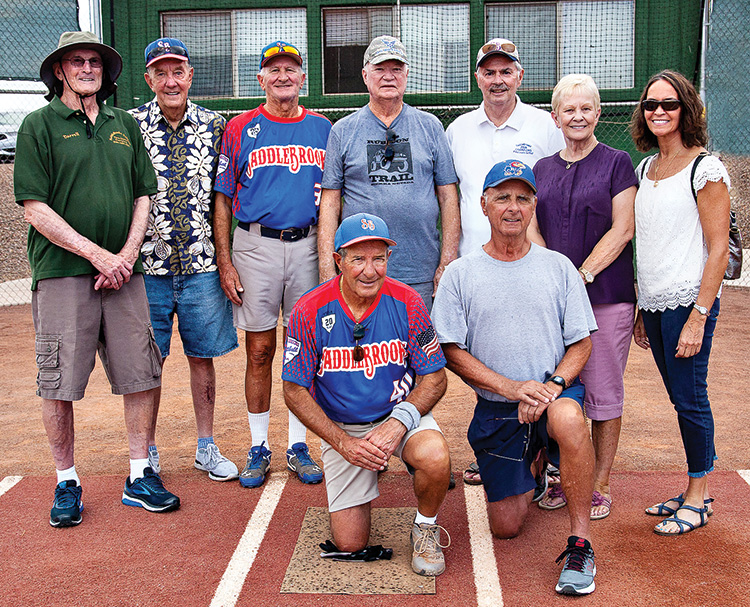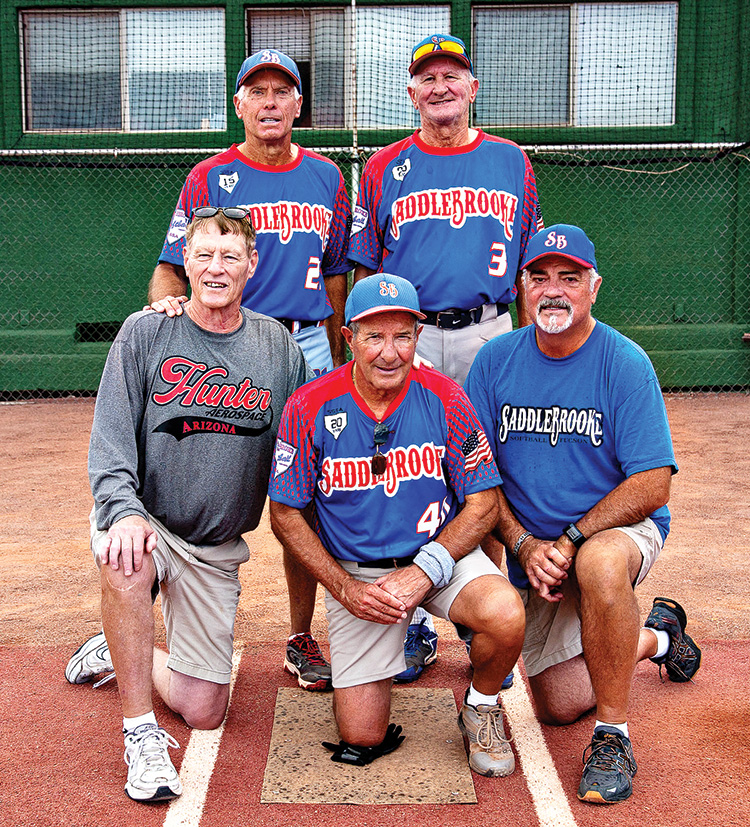 Mark Hojnacki
Even a light downpour at the start of game three couldn't dampen the spirits of either those playing or the good crowd in attendance who witnessed the three games at the SaddleBrooke softball complex.
The highlight of the day were those past and present members who were honored as contributors and players over the past 20 years of SaddleBrooke softball. A small committee was formed earlier this year to identify those past and present members who made exceptional contributions to SaddleBrooke softball since its onset and players who have excelled here in SaddleBrooke and with tournament teams nationally. Each inductee will have their name engraved on two permanent plaques displayed at the field. Those members honored as significant contributors were Gene Bovee, Charlie Brehm, Ron Sanders, John Vosper, Vic Garcia, Jerry Smith, Pete Vallone, Harvey Goltz, Stan Schneiderman, Bob Steins, Joe Lestingi, Brad Adair, Bill Pace, Darrel Sabers, Ron Quarantino, and Bill Wescoe. The initial class of players honored were Alan Dial, Brad Adair, Tom McAlbin, Joe Engelhardt, Curt Shepord, Ron Quarantino, Bill Spevak, and Tim Ward. Our many thanks to all of you for your contributions which make SaddleBrooke Senior Softball the success it is today.
Special thanks once again to Doug Wagers of Window Wizard for handling the cooking of brats and hot dogs as well as our tournament sponsor, Canine and Company. SaddleBrooke Senior Softball also thanks all of those residents and guests in attendance and hoped you had a good time.
The first game of the day saw Closer Look down Ambient Air 16 to 5. Debbie Seguin led the winners with a five-hit game, followed by Paul Jarzembinski with four. The trio of Sue O'Donnell, Dennis Purcell, and Greg Morgan led the Ambient attack with three hits each. The second game was also a rout with Athlon Physical Therapy beating up on Barron Electric 20 to 6. The victors were led by Bill Spevak, Mark Adolph, and Charlie LaNeve with four hits each. Terry Mihora and Joe Passoni charted three hits each for the losing Barron Electric Ten. The final game of the day saw Arizona Pool edge Canine and Company 14 to 10. Don Cox led the winners with three hits. Roger Baker led the Dogpound team with a stellar four hit performance.
The summer league season is winding down, but the fall season will begin on Oct. 7 and run through Dec. 13. We also are still planning on having our annual Veterans Day tourney in November, so mark that date on your calendar. SaddleBrooke Senior Softball has league games every weekday for all talent levels. Contact League President Mark Hojnacki at [email protected] if you're interested in getting on the playing field.