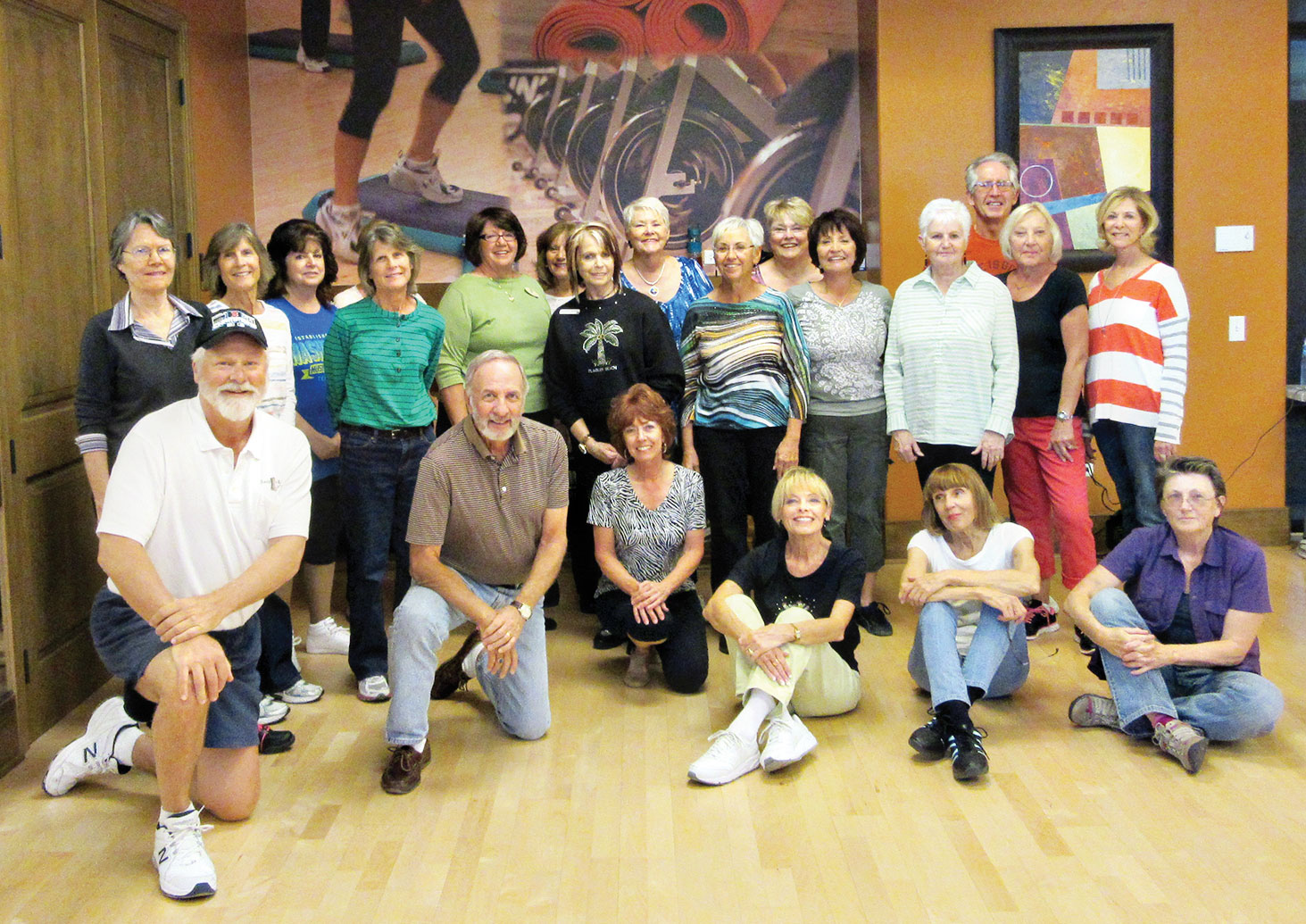 Dr. Mark Magdanz
Who wants to dance this spring/summer? With the warm weather it seems we are headed to the change of seasons. It's time to see who wants to dance at the Ranch for the 2015 spring/summer months. Ranch dancers will have their spring series starting in April. Rebecca accepts reservations for students for her class series far into the future, so with a session starting in April, then others in July and September, you can reserve space now no matter your current resident status. Keep in mind that class attendance requires a reservation. Drop-ins are not encouraged as class size is limited; so please contact Rebecca to register in advance.
The winter series of line dance classes is about to wind up and the gang has learned several brand new dances. Community dance practices led by your fellow residents can supplement your dancing week. You are always encouraged to attend practices held weekly in SaddleBrooke.
Whether you are a novice or more experienced, Rebecca's lessons are geared to giving you the opportunity to dance, improve brain function, get some exercise and make some new friends. Many dancers are without partners, but couples dance too. All class levels include fundamentals to prepare you for enjoying years of line dance fun. You will experience line dance with different music styles and rhythms, but we often stress country and western. Many of those completing a few series of lessons are comfortable with upper levels, but it is not uncommon for dancers to stay in their favorite forever. The dances for all levels change every series so there's always something new. The capacity limits for the computers connecting our heads and feet are always pushed but not exceeded.
Some of your neighbors have now been dancing with Rebecca since October of 2012. There are two groups dancing: one for brand new starters and a second for those more experienced with line dance skills. The most advanced dancing class occurs in SaddleBrooke; those wishing the biggest challenge come down for the fun. Start in the easiest session and when your knowledge, foot speed and fitness allow move on (or don't) to another level. If you think you are beyond beginner status, please speak with Rebecca to assess your skills.
Ranchers who are busy on Wednesday will also find dance space down in SaddleBrooke: Monday beginner sessions or Monday/Tuesday level two classes are options. With Rebecca teaching three skill levels over four days of classes in SaddleBrooke, you can definitely find a class and skill level that fits you just right in either of our fine Robson communities.
To place your name on one of the reservation lists for spring or summer, contact Rebecca Magdanz at [email protected] or phone 818-2656. Rebecca is a professional line dance instructor with eight years of SaddleBrooke teaching, and summer will be the seventh series in the Hacienda facility.