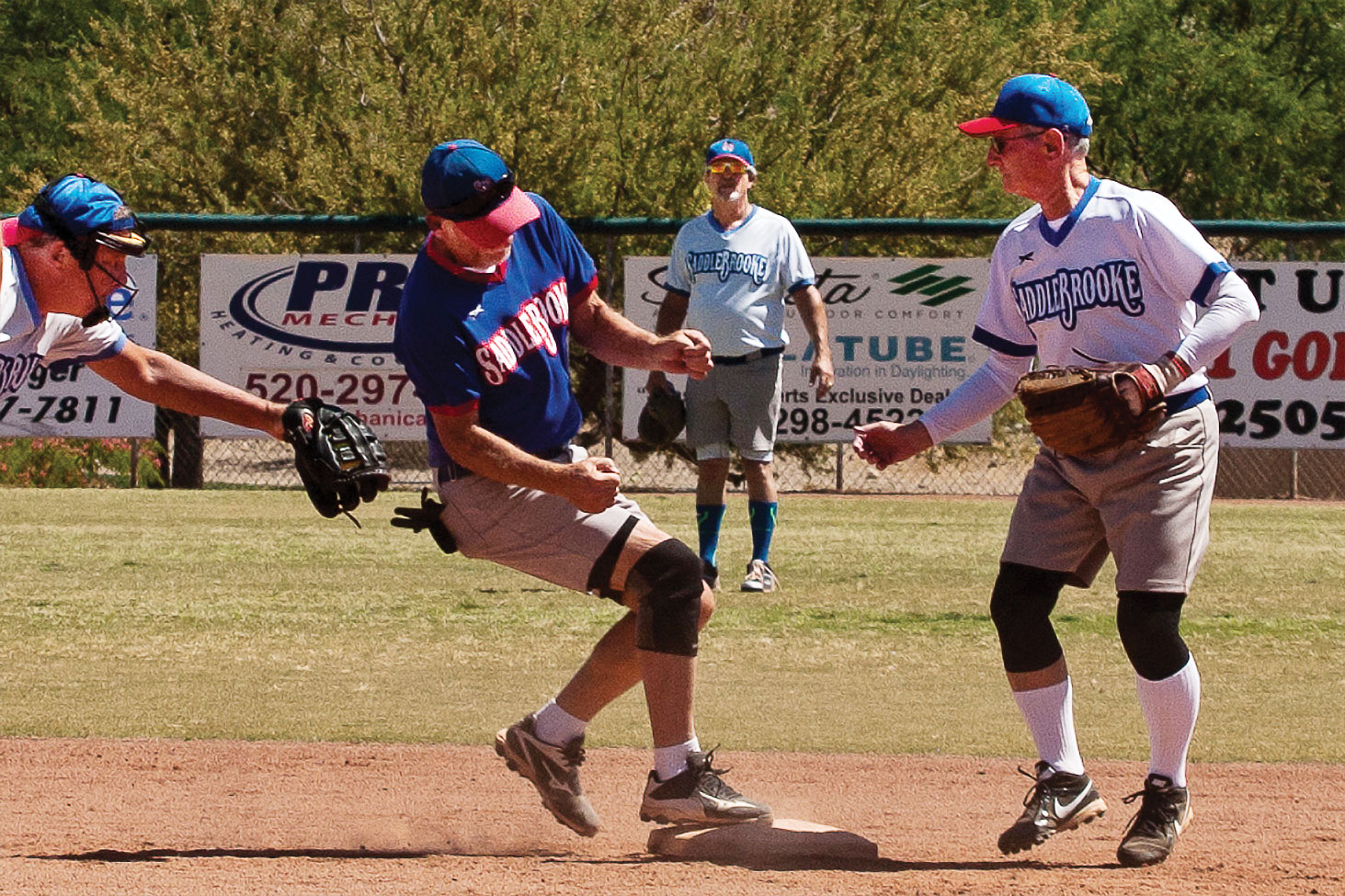 Mark Hojnacki
SaddleBrooke Senior Softball paid tribute to one of its brightest stars on Memorial Day 2018. Richie Adams passed away last September and our entire softball community lost a great friend and teammate. Richie's wife, Ethel, was present for the tribute delivered by friend and past SSSA President Ed Cussick. We are all grateful to have known and played with Richie. Ethel, we miss you and hope you will make an occasional appearance during future softball or Pub Ratz events. Ed summed it up best, "We who knew him and played with him along the way, whether on his teams as a teammate, manager or as a foe, recognized his commitment to the game. We will all miss you Chief Running Glove." You wore many hats, but we will always remember your smile, laughter, deranged sense of humor and, most of all, the man. Ace Richie Ace.
A large SaddleBrooke community crowd packed the stands for all three games this year and were treated to three well played games. In the Recreation opener, visiting W & W Physical Therapy spanked the home team X-Pert Automotive 14-11 in six innings. The victors were led by Mike Lueck and David Kraut, each with four hits. Jason Noffsinger and Paul Jarzembinski contributed inside the park home runs to cap the victory. Diane Dial led the X-Pert Automotive team with three hits, one a four bagger in the bottom of the first.
In the second game, Community/Coyote League stars put together another classic battle with the home team Kristy McInnis-Tierra Antigua Realty besting Window Wizard by a score of 16-10. Al Cangeme, Ron Romac and Dave Fortis led the winners with three hits each. Ken Beals had four hits for Window Wizard in a losing effort.
Before the third game, in honor of Memorial Day, Taps was played, as well as the Star-Spangled Banner. The flag started at half mast, then was raised. Now it was time for the Competitive League game with Waste Management thrashing the visiting Wanda Fudge-Long Realty Stars 20-13. Consistent hitting by Waste Management plated runs in every inning and led to the demise of the visitors. Mark Adolph, Bobby Carbone and winning pitcher David Bohlman lead the onslaught with four hits each for Waste Management. Harry Adams had four hits in a losing effort for the visitors in blue.
A big thank you to our sponsor for this tournament, Ambient Air Heating & Cooling. Also, thanks to the Doug Wagers team from Window Wizard for grilling magic with the hot dogs and brats. And, of course, thanks to our many league volunteers for making this year's event a successful one, led by tournament directors Mary Schneck and Ken Beals: the field crew who handled set up and take down, our food servers, umpires, players, scorekeepers, photographers and announcers. Special thanks to Ken Crossman, Tony and Teri Lulek, Cathy and Dennis Purcell, Pat Tiefenbach and David Fortis. It could not have been done so well without your commitment to SSSA Softball. But most of all, thank you to our SaddleBrooke community for stopping by and supporting our association with your attendance.