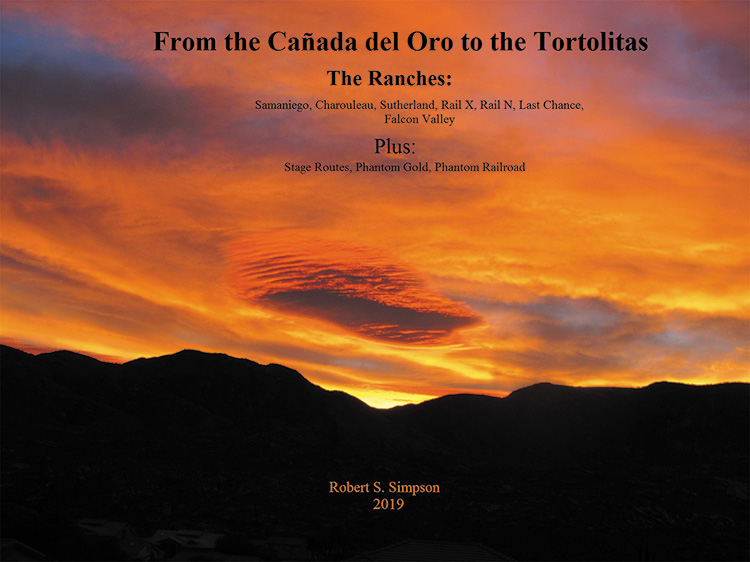 Mariano Samaniego, Pierre Charouleau, and William H. Sutherland are among the best-known ranchers from the late 1800s in Bob Simpson's new history From the Cañada del Oro to the Tortolitas. But even more pertinent to the SaddleBrooke Ranch area history, Charles Bayless obtained title from the Santa Fe Pacific Railroad for today's Oracle Junction (earlier names were Represso and Walnut Well), while his Bayless and Berkalew Ranch grazed thousands of sheep in the area from the 1890s. Simpson traces subsequent ownerships culminating in the huge Falcon Valley Ranch purchased by Boyd Wilson in 1951. Colorful stories of Boyd's father, George Wilson, and of his famous Linda Vista Guest Ranch are included.
The 144-square mile study area of the book extends from SaddleBrooke Ranch southward into Catalina State Park. The narrative begins with the 1869 Aravaipa Indian attack on the Camp Grant-bound Tully and Ochoa wagon train near today's Biosphere. All federal patents in the study area are mapped using contemporary satellite imagery. The history of the consolidation of homesteads into well-known ranches such as the MS, the Last Chance, the Rail N, the Rail X, and the Falcon Valley serve the book's prime purpose.
In addition to ranching, Simpson's book explores early local stage and mail service to Oracle and beyond. Also, audacious get-rich schemes—SaddleBrooke's Phantom Gold and the Phantom Railroad—demonstrate the human foibles integral to any historical period.
The author has been a SaddleBrooke homeowner for 17 years. He published "Charouleau Gap: Connecting a French Family with Its Tucson History" in the spring 2016, Journal of Arizona History. He has lectured to groups including the Oro Valley Historical Society, the Oro Valley Library, Friends of the SaddleBrooke Libraries, and the Tucson Corral of Westerners.
Simpson's book is available at the SaddleBrooke Gift Shop, Players Pub in Catalina, and in Tucson at Bookmans locations. Inquire at [email protected]