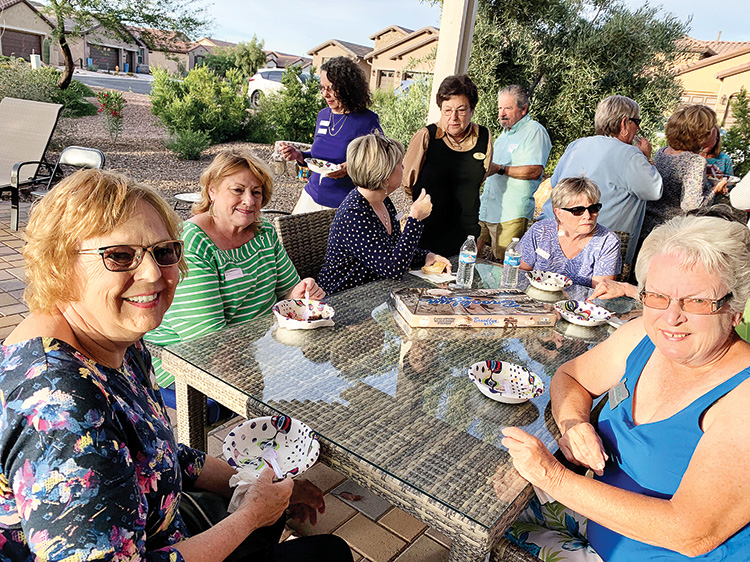 Arlene Wong
Over 50 people from the New York/New Jersey Club met on May 18 at the home of Kim and Larry Schweitzer to enjoy ice cream with all the fixins' and share memorable experiences of growing up in NY or NJ or experiencing the area through their partners.
Descriptions of NY style cheesecake, pizza, bagels, pastrami, baked and soft pretzels, Italian ices, kishka, Ferrara's cannoli's and more stimulated our senses. We also recalled memories of Katz's deli, Mamma Leone's, Juniors, the San Gennaro Italian festival and playing stoop or stick ball.
Places like Central Park, the Fulton Street fish market, museums, Rockefeller Center and the Rockettes, Broadway shows, Rockaway Beach, the Jersey Shore, Asbury Park and much more were fondly remembered.
They say smell can be the most powerful trigger for memory, and we were reminded of the smell in the subway, of the concrete streets, wafts from the ethnic food stalls and whatever was steaming up from those random pipes in the middle of the street.
Some of the group shared sounds of the constant din of sirens, garbage trucks, taxi horns, kids laughing, the click of heels and the mix of languages spoken. The sound of people talking at decibels that sound more like yelling. Now take all that and multiply it by ten, pretend it's a fish, then slap yourself in the face with it! Sound is energy, and that's perhaps the most distinct part of the vibe of NY and NJ.
New York, New Jersey – we love you and appreciate the rich tapestry of the memories of growing up and living there or experiencing it as adults.
If you've ever lived or worked in NY/NJ, join our NY/NJ club and reminisce about your time and experience there. Our next get together will be on Friday, September 27, for a wine tasting (details to follow) and more enjoyment of your NY/NJ friends and neighbors. To join the NY/NJ club mailing list, please send an email to Kim Schweitzer at [email protected]
Thank you to Sharon Farber, Donna P. Nelson and Johanna Newman for providing the ice cream and the rest of the club with the yummy toppings.