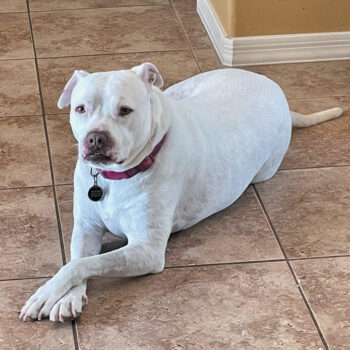 Joy Wegner
January 2023 was a significant month for one dog named Duchess and one nonprofit named Friends of Pinal County Animal Shelter and Rescues (Friends of Pinal).
Duchess celebrated three years as Friends of Pinal's "poster dog," a title she was awarded in January 2020 when she became the first dog whose medical expenses were covered by the nonprofit organization.
The frisky white American Pit Bull Terrier was one of many dogs taken in at our county's animal shelter, Pinal County Animal Care & Control (PCACC), in early 2020. Duchess had a very noticeable cancerous tumor. It was diagnosed as operable, but the required surgery and follow-up care were beyond the shelter's budget. Without the surgery, her health and her adoption would be challenging for this young and energetic dog.
Friends of Pinal was a newly-formed nonprofit organization, and seized the opportunity to partner with the shelter for surgical expenses and post-surgery care. Removal of the cancerous tumor was successful, though some post-surgery complications were also financially covered by donations to Friends of Pinal. This compassion and support resulted in Duchess being adopted in early 2020.
Fast-forward to January 2023: Friends of Pinal has managed donations from many donors for the shelter's population of dogs and cats to treat illnesses or injuries, as well as medications. Additionally, the group has funded medical equipment to enhance the veterinary capacity at the shelter, located near Casa Grande. Friends of Pinal also ensures there is a martingale collar for each dog at the shelter. To see more individual stories and the group's focus projects, visit their website at www.friendsofpinal.org.
And how about the "poster dog" Duchess? While recovering from her initial surgery at a foster's home, she became acquainted with Laurel and Terry Parrott, at that time residents of SaddleBrooke in Pinal County. She has worked her way into their home and their hearts, and is now an integral part of their lives.
"It took Duchess nearly a year to really feel comfortable in her new home with us," said Terry Parrott. "But she is incredibly adaptable." Duchess made the car trip from Arizona to Michigan one summer. Laurel noted, "If Duchess could text, she would have written 'I made it through a very weird time last night in something called a hotel. Strange noises. And a scary thing my parents called an elevator.'"
Duchess is an Arizona dog—she loves to soak up sunbeams in her backyard garden. The Parrotts try to balance her time in the sun with doggie T-shirts or shade, since Duchess still has bouts of cancerous skin tumors that must be removed. She is a voracious eater, an avoider of the vacuum and brooms, and an avid fan of car rides. Duchess prefers people over other dogs, and is gracious and gentle when meeting new human friends at the front door.
Because Friends of Pinal teamed up with PCACC to support her initial health needs, Duchess has found a home and a future!