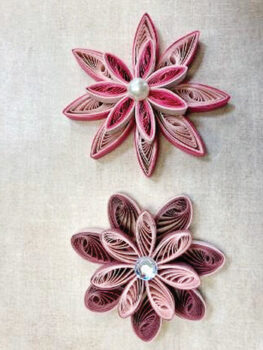 Dale Farland
Have you ever wondered how those delicate flowers and intricate pictures are made by paper quilling? Paper quilling may have evolved from China with the advent of paper. Now you can learn this art, and it is easier to do than you think! Even if you are worried that you are all thumbs, now is your chance to learn this technique.
Erin Newman, SaddleBrooke Ranch (SBR) resident and Southern Arizona Artist Guild artist, will be teaching this art form in a paper quilling class. All the tools, paper, and instructions for creating these delicate flowers are provided by Erin.
Everyone who has taken this class has enjoyed it. Erin will not only explain the history of paper quilling but will demonstrate several different techniques, which everyone will practice. At the end of the class, you will be absolutely delighted with the two-layer flower you create. Whether your flower is in pastel colors or vibrant colors, you will have a treasured piece of personal art while learning a new form of artistry. After this class, you can continue with this art form or simply enjoy your new creation!
Class date: Monday, Aug. 29
Time: 10 a.m. to noon
Class fee: $45, includes instruction and materials
Class size limit: 12
Registration/payment deadline date: Monday, Aug. 22
Registration note: Registration will be through GroupWorks. It is necessary for you to Register/RSVP through GroupWorks for this and all future art classes. Priority will be given to SBR Art Club members.
When you go on GroupWorks, click on the events tab to register/RSVP for the class you want to attend. If you have any trouble with GroupWorks, please contact class registrar Jeanne Bianchini at [email protected].
Deposit your check for the class made out to SBR Art Club in the lock box located directly outside of the Art Room, located within the SBR Creative Arts and Tech Center.
SBR Art Club membership: If you want to join the SBR Art Club, please contact Dale Farland at [email protected]. She will provide you with the forms to complete. Membership is only $15 this year.