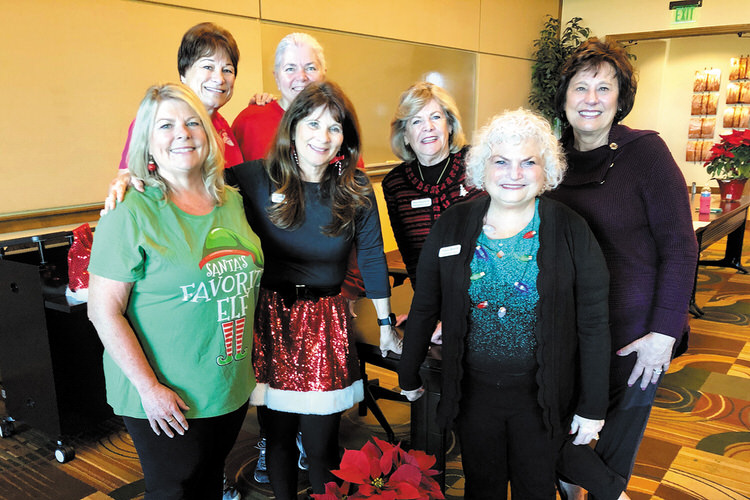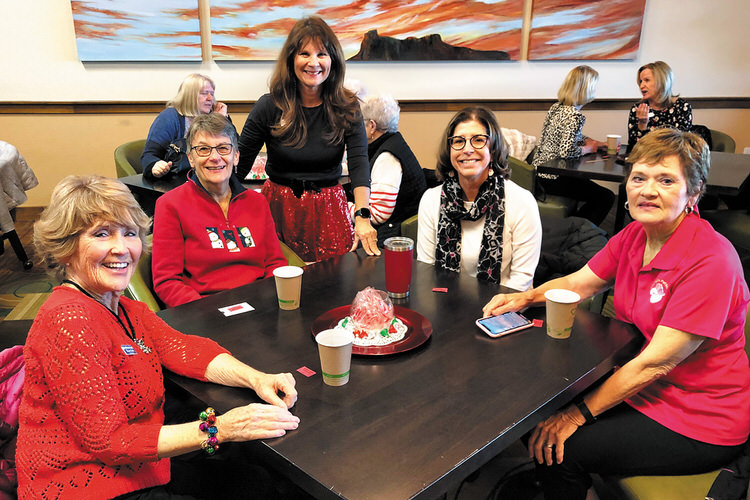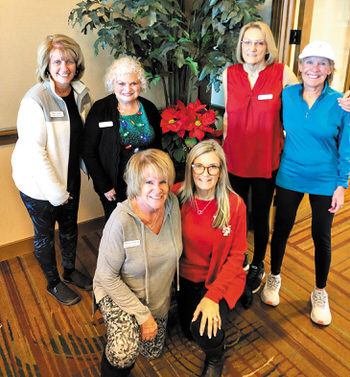 Camille Esterman
On Dec. 14, the outgoing board for the Ranchette Putters hosted a member appreciation event. Due to frost conditions on the SBR green, putting was canceled that morning. However, approximately 50 ladies gathered in the La Mesa room and enjoyed brunch.
Dressed in holiday attire, putters helped themselves to a buffet of four different kinds of burritos—all featuring eggs, potatoes, and cheese; while some contained bacon, ham, or sausage. Banana and blueberry muffins were also available, along with coffee, tea, and hot chocolate.
A table full of giveaways were displayed, including Ranchette Putter drink cozies and luggage tags. There was also a random drawing for hats and stocking caps. Kudos to Jodi Walker-Lowe and her team for putting together another fun event.
The Ranchette Putters were eager to welcome their new incoming board: Susie Morrill, president; Marilyn Heasley, vice president; Lynn Wagner, treasurer; Mary Leben, secretary; Trish Minard, membership; Vickie Thomson, events; and Cathy Ratliff, statistician.
At the monthly meeting on Jan. 4, the outgoing board was congratulated for a job well done. Hearty thanks go out to Jacque Hendricks, president; Susie Morrill, vice president; Judie Thompson, treasurer; Pam Engelhardt, secretary; Corky Mansmith, membership; Jodi Walker-Lowe, events; and Doris Carlin, statistician.
Because of frost and inclement weather, putting was canceled three times in December—making it a non-qualifying month. Therefore, there are no monthly winners to announce.
All female residents of SBR are invited to join our club. No prior golf experience is necessary, just a desire to have fun and meet other ladies. For membership information, contact Trish Menard at [email protected].