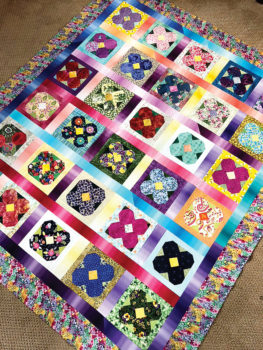 We're in! The wait is over. The Ranch Piecemakers are up and running in the Needs Arts Room.
We already have a number of members trained on the long-arm machine, which means the stack of pieced quilts destined for the Tucson Veterans Home are getting their finishing touches.
Classes are being held for beginning quilters and later for creating a beautiful tote bag. In addition, each week a group gathers on Thursday mornings to create a different quilt block using the Moda Blockheads patterns.
We have expanded our community outreach and are piecing quilts which will be given to foster children in the area. And, of course, there is just the plain and simple fun at our weekly Friday meetings where we greet new members, laugh, learn and share our latest creations, inspiring more and more projects.
If you are curious, have some questions about our group or simply want to check out our new fabulous digs, we will have an open house during our Ranch Piecemakers meeting on Friday, October 12 from 10:00 a.m.-noon. Hope to see you then!
And lastly… tick tock… it is almost your last chance to buy a raffle ticket for the beautiful quilt "Ranch Trails" pieced and quilted by Diane Still. The drawing will be on October 19. We will make it easy for you, raffle tickets will be available for sale at our open house on October 12.
We are busy as bees… care to join us?