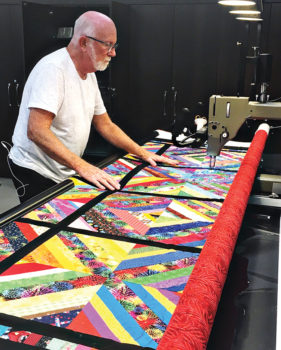 Cheryl Murray
Do you feel lucky? You don't need a lucky charm or a four-leaf clover; you just need to buy a raffle ticket (or two, or ten, or twenty) to have a chance of winning this year's Ranch Piecemakers raffle quilt. It is breathtakingly beautiful, and it could be yours.
This quilt embodies everything you have heard about quilt making. Just as the pioneer women took scraps of fabric, pieced them together, gathered with other women in a bee to sew together, laugh, and share the stories of their lives, all the while creating a functional piece and also expressing their artistic talents, this is exactly what the Piecemakers do.
This raffle quilt is a true community effort. Almost every single club member, from beginner to expert, participated in its creation. We all searched through our fabric stashes, pulled out pieces of every imaginable color and pattern, and made "string" blocks. The result of this collaborative effort is a kaleidoscope, a beautiful 92"x92" quilt.
All proceeds from the raffle are used towards our community outreach efforts. Currently, we are providing quilts for foster children, as well as La Casa De Paz, a women's shelter in Pinal County. Watch for us selling raffle tickets at happy hour at the Ranch House, or ask any Piecemakers Club member.
Don't delay! The raffle drawing will take place on Friday, Nov. 1.