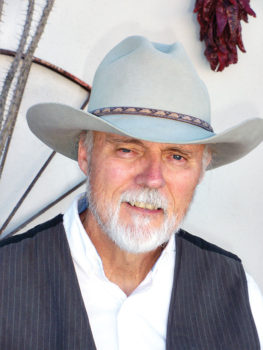 Nancy Carlson
SaddleBrooke Ranch resident, Bruce Carlson, will be in concert on February 3, 2019 at OrCA, the Oracle Center for the Arts. The free concert will begin at 4:00 p.m. Bruce writes Folk-Americana music and plays his originals and some cover songs on several differently tuned guitars. He says that his music is all about love, life and landscapes and reflects the spectacular scenery and simpler lifestyle of the Southwest.
Bruce has performed at many local and out-of-state venues including Music in the Mountains at Catalina State Park, Dark Sky Event at Oracle State Park, the historic Rio Grande Theatre in Las Cruces, N.M. and several coffee houses and vineyards.
He participated in both the 2017 and 2018 Tucson Folk Festivals and was a top ten finalist in the lyric competition. One of his original compositions, a Civil War ballad titled As Soldiers Lie At Rest was included in a large three-disc album produced in Nashville called "This Is My America."
Bruce and his wife, Nancy, met in college in 1966 and performed the popular folk music of that time in Greenwich Village in New York City and clubs throughout Long Island. They have continued musically since then as worship leaders in their home churches in N.Y. and Bruce plays now as a hobby and as a part of his ministry at jails and prisons as a teaching chaplain.
Bruce will have CDs for sale and all proceeds and donations for the evening's performance will be given to the Gospel Rescue Mission/Prison Ministries.
Come and join us for a night of mellow, easy listening music at OrCA, Oracle Center for the Arts, Oracle Piano Society at 700 East Kingston Street, Oracle, AZ.