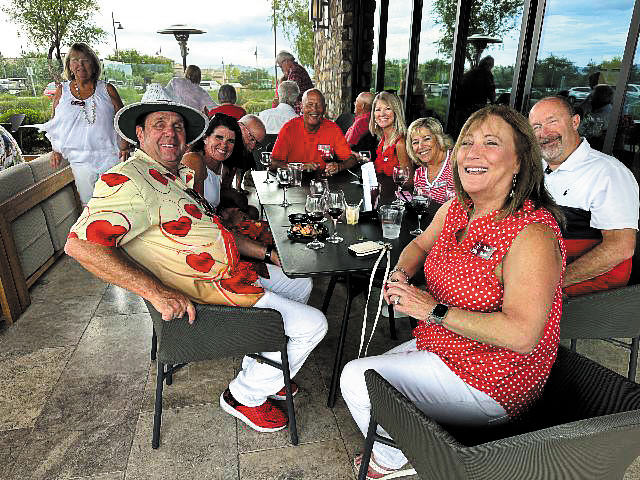 Red and white was the attire for the afternoon as the Wine Club of SBR hosted "Red, the New White" wine mixer on the outside Event Patio. More than 100 members attended this event on May 16, and many members stocked up their wine reserves for summer!
Four wines were paired with selections made by our wine advisors and culinary teams. Bottles of reds and whites from a unique variety of wine regions were poured.
The wine and food pairing menu included:
* Gerard Bertrand, Corbieres Heresie, Cote de Rhone—Cauliflower Crust Mercato Flatbread
* Prunotto Dolcetto d'Alba, Northern Rhone—Brie en Croute
* Stéphane Aviron, Red Blend, Beaujolais Villages—Chilled Zucchini Soup with Goat Cheese Crumbles
* Sauvion Vouvray Sauvignon Blanc—Frozen Berry Assortment and Lemon Curd
The club's next event is a wine dinner on July 18.
Interested in joining? Our web page, www.wineclubofsbr.org, is the portal for all information about the club, including upcoming events and ticket purchases, news, membership directory, and event photos. Click on the New Member Signup tab on the top right! You can also contact members[email protected] if you have more questions before joining.