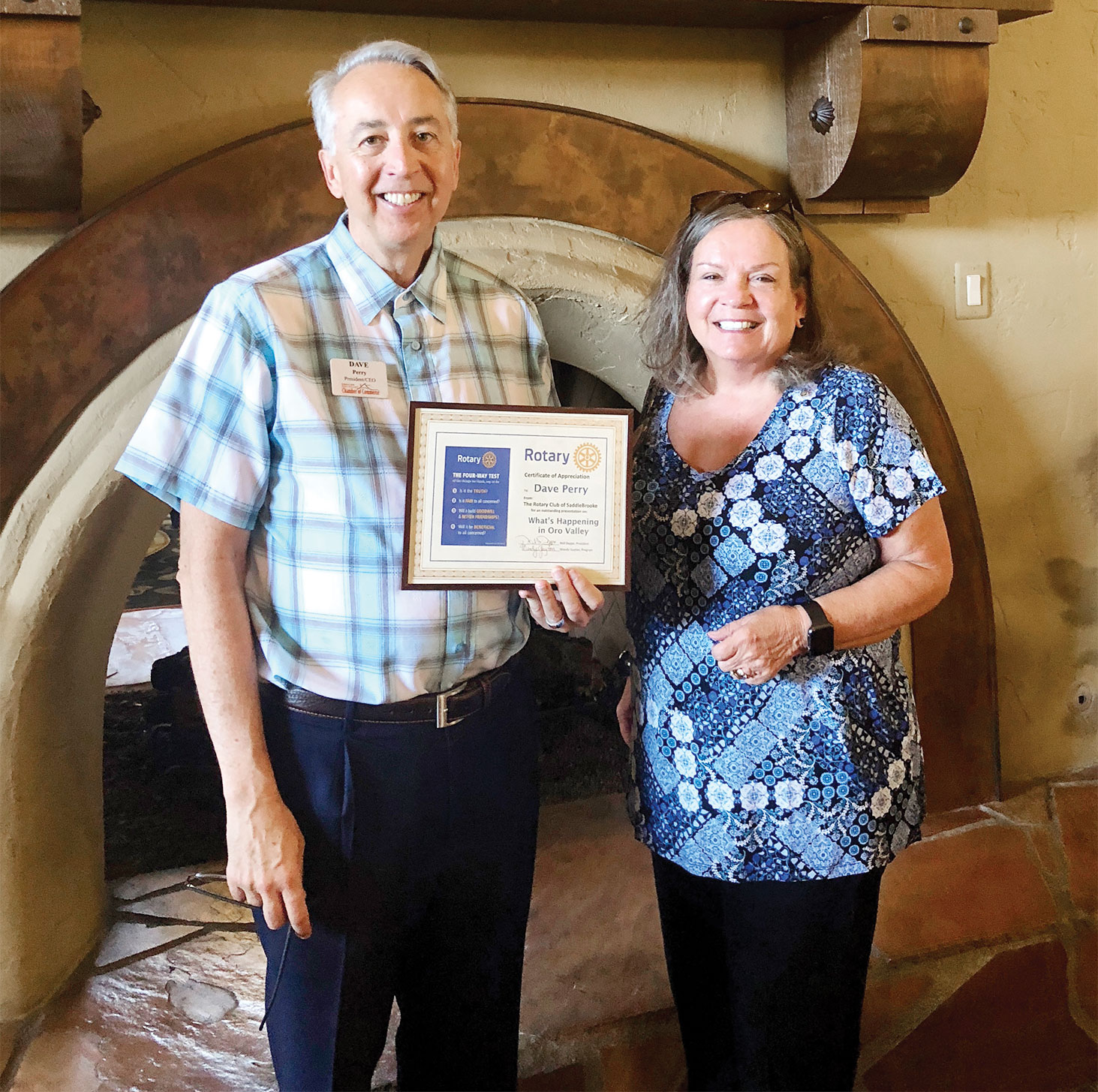 Barbara Barr
The Rotary Club of SaddleBrooke got the inside scoop on Oro Valley. Dave Perry, President and CEO of the Greater Oro Valley Chamber of Commerce, spoke to the club about the latest Oro Valley area updates. Our Rotary members got the up-to-the-minute details about Nakoma Sky, the Oro Valley Marketplace and fascinating information about our neighboring city.
First, Dave discussed the Nakoma Sky situation. The Nakoma Sky project was scrapped just prior to Dave Perry's visit to SaddleBrooke. He shared insights about the situation. All money is being returned to those who have been involved with the project.
Next, Dave shared a lot of good news about the Oro Valley Marketplace. All major tenants have renewed their leases with the exception of Dick's. The Best Buy at the Marketplace location is the top performing Best Buy in the area!
Last, Dave presented detailed information about the Greater Oro Valley area. Did you know that Oro Valley is the safest city in Arizona? Did you know Fortune Magazine declared Oro Valley as one of the top 100 best places to live and launch a small business? Dave shared a number of factors that make Oro Valley a great place to live and do business.
The Rotary Club of SaddleBrooke plans future events with Dave Perry and the Greater Oro Valley Chamber of Commerce. At Dave's suggestion, our club plans to take a field trip to K-5 STEM School (Science, Technology, Engineering, and Math) in Oro Valley. Many thanks to Dave Perry and the Greater Oro Valley Chamber of Commerce for an outstanding program.
The Rotary Club of SaddleBrooke is packed with energetic volunteers of all ages coming together as friends in Rotary to assist area schools, our community and international philanthropies. Rotary is open to those who are retired or work in SaddleBrooke, SaddleBrooke Ranch and surrounding communities. If this sounds like something of interest to you, come join us for lunch on Thursday at the SaddleBrooke One Clubhouse. For more information, contact Wendy Guyton at 520-404-5712 or [email protected]
The Rotary Club of SaddleBrooke was chartered in 1997. Visit the website for more information, www.saddlebrookerotary.com.