Dharma Needs a New Home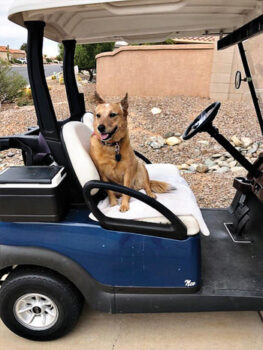 Due to circumstances beyond anyone's control, sweet Dharma needs a new home. She is currently living in SaddleBrooke, and has for the past five years. Dharma is an 8-year-old Australian Cattle Dog. She loves people, cuddling, and golf cart and car rides. She walks well on a leash, is healthy, up-to-date on all vaccinations, is spayed, housebroken, micro-chipped, and approximately 40 lbs. Dharma has been deaf since birth, but that has not stopped her from being a sweet, playful, loving companion. She responds well to hand signals. Dharma would do best as an only dog. We have so much more to share with you about this beauty.
If interested, call Romayne at 520-834-5718.
RoRescue Thanks You
Rochelle Puczkowskyj
Twenty years ago, I plunged into the icy waters of dog rescue, not knowing what lurked below the opaque surface. I was a foster volunteer until 2016 when an attorney found a benefactor who wanted me to have my own rescue—and RoRescue was born.
Many people see a pet rescue through the eyes of an adopter. A sweet, loving furry creature who fits well into their lifestyle. I thank all who have supported RoRescue through donations and/or adopting one of our wonderful dogs. Too many think it is an easy road; oftentimes the weary road is a heartfelt attempt for a miracle. I need to speak on behalf of all the wonderful people who see potential in a hurting, fearful, furry creature and are not afraid to step into the icy waters and dive beneath the surface, never knowing where the plunge will take them. I am not going to bore you with facts and sad stories or successes. We have all heard them. What I am going to do is to applaud your efforts and thank every one of you. This is not a hobby or a pastime. It is a calling. We can no more turn away from a needy pet than to stop breathing.
Rochelle Puczkowskyj started RoRescue, a small non-shedding dog rescue, in Tucson, Ariz.
The Annual Pet Food Drive: Helping Pets in Need
Don't miss SaddleBrooke Pet Rescue Network's (SBPRN) pet food drive on Friday, Sept. 30, from 8:30 to 9:30 a.m. in the HOA One parking lot near the Bocce Ball courts. This food drive benefits The Pets in Need Action League (P.I.N.A.L.), which provides temporary pet food assistance to qualified residents of Pinal County who may be struggling to provide for their pets. P.I.N.A.L. relies on grants and donations, as they receive no municipal, county, or federal funding. Please drop off your unopened dry or canned dog/puppy and cat/kitten food—only food—not other pet items. Other pet items can be dropped off at SBPRN's First Friday Drop Off, which is Oct.7.