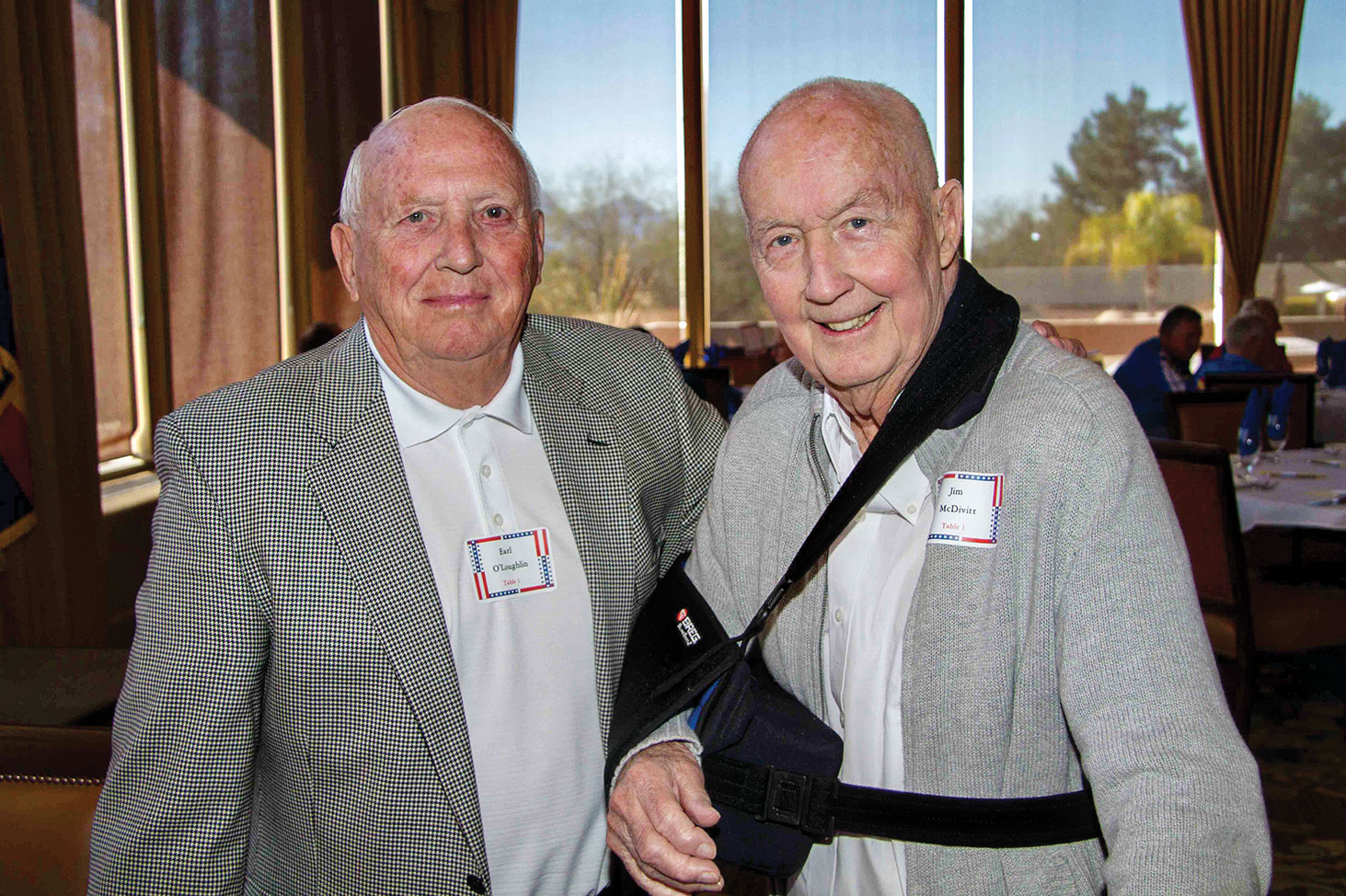 SaddleBrooke Troop Support's "Conversation with two American Heroes" on February 4 at SaddleBrooke One Vistas restaurant was a huge success, both for the attendees who were treated to fascinating stories as well as for the area troops, veterans and their families who will benefit from the proceeds of the record turnout.
Over 180 people attended the lunch program that began with a presentation of the colors by Marines from Bulk Fuel Company Alpha based in Tucson and Pledge of Allegiance. Joe Rink emceed the program and introduced the speakers, former astronaut James A McDivitt and four-star general Earl T. O'Loughlin.
Both speakers were enlisted men and had parallel early careers, meeting in pilot training during the Korean conflict. They've remained friends over nearly 40 years, even while they pursued different paths. After Korea, Earl served under General Curtis LeMay in the Strategic Air Command and had many positions prior to becoming Wing Commander. Jim went on to become a test pilot and then left the Air Force to join NASA.
Attendees asked many questions to which there were frank and entertaining responses, everything from the impact of political correctness on the military to who is the best hunter and the importance of family were fair game. The audience learned that the B47 was Earl's preferred aircraft, more maneuverable than the B52 especially during storms when the wings could flex 17 feet. Jim shared some CLC moments (career limiting capers) as well as stories about visits to the White House including one occasion with Lucie Baines Johnson babysitting his children and Lady Bird lending dresses to his wife for a last minute trip to the Paris Air Show to accompany Vice President Humphrey.
Other special guests visiting SaddleBrooke for the program were Delicia "Dee" Brunner, Ground Transportation and Terminal Properties Coordinator, Tucson Airport Authority, responsible for the Military Liaison Office that serves troops and their families in transit; and Pat Linder, widow of highly decorated retired admiral and aviator Jim Linder, who authored Row, Row, Row Your Boat for spouses of Navy personnel.
SaddleBrooke Troop Support (STS) is a 501(c)(3) organization. To see all the event photos and to learn more about STS, visit www.saddlebrooke-troop-support.com.