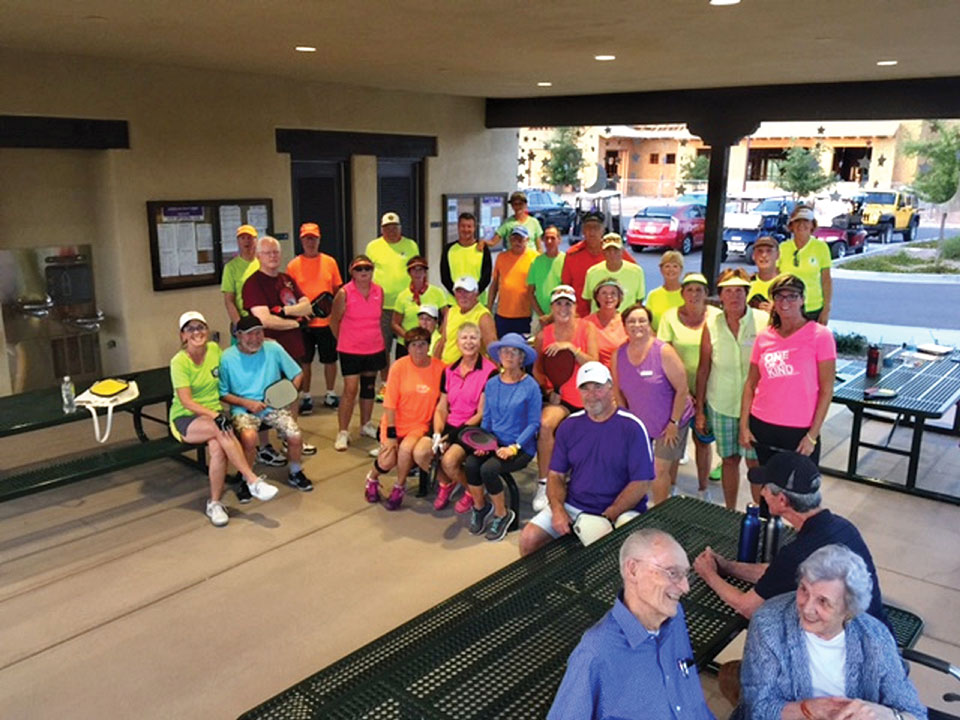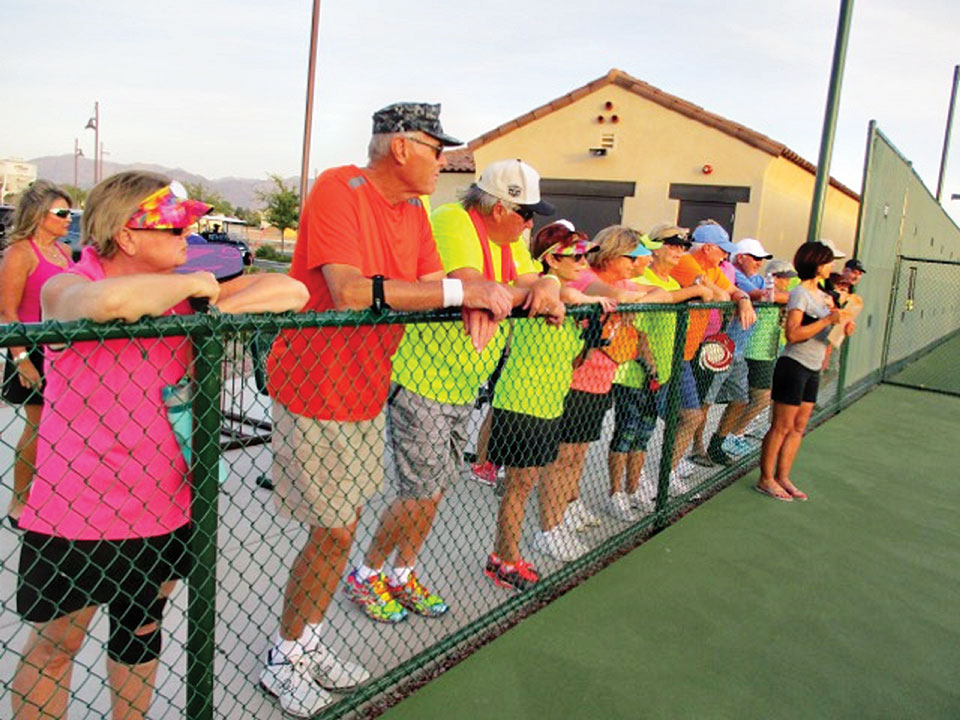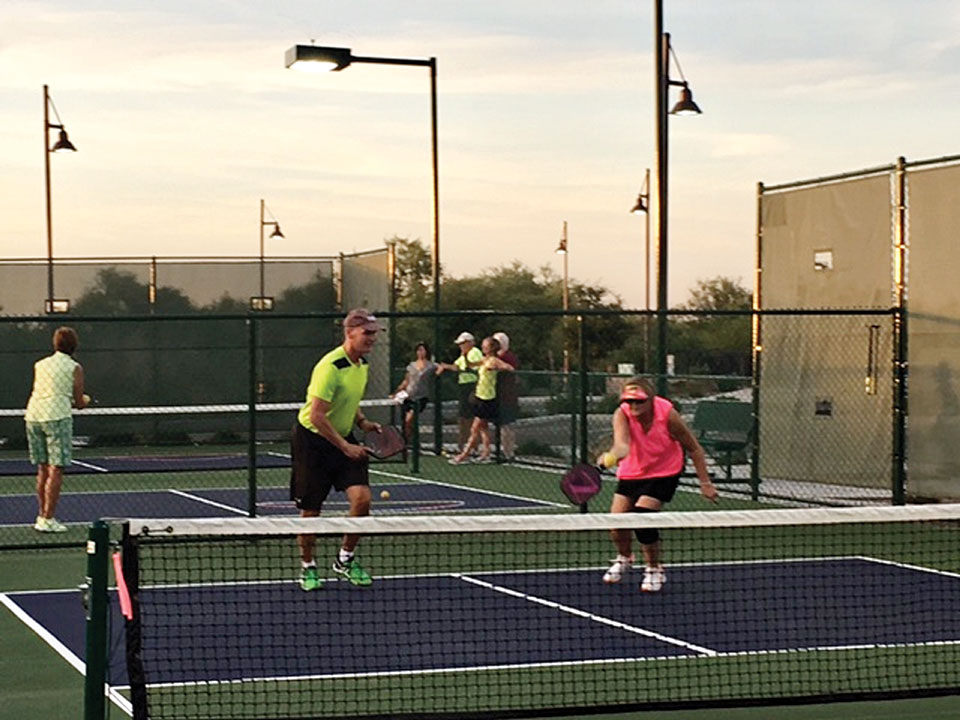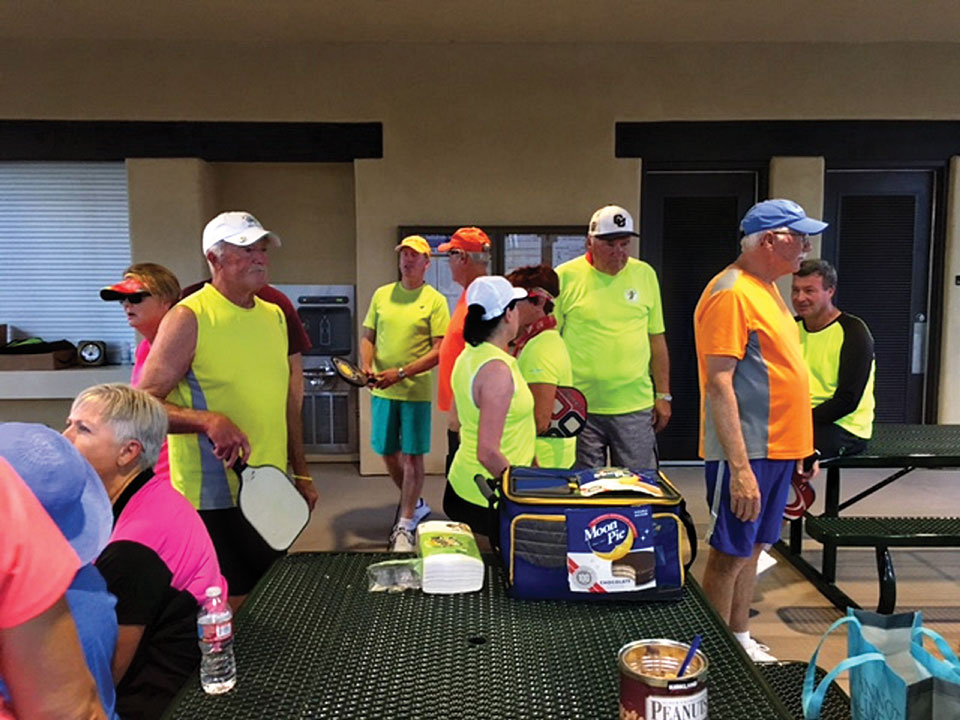 Ron Green
The evening was Monday, June 5, 2017. It was warm with a slight breeze, and there was a distinct glow coming from the north. Our sunsets in Arizona are spectacular, but this glow was different.
The SaddleBrooke Ranch Pickleball Association (SBRPA), through the support and organization of our social committee, held a social event at the pickleball courts; it was the Moonlight Mixer.
There were 28 pickleball players from all skill levels that attended this social event. All were dressed in neon colored shirts and wore glow-in-the-dark bracelets. Ah! That is where the glow came from). Play was a round robin format. The evening was a great way to meet players, play with all levels and have a lot of fun.
The pavilion was decorated with moons and stars, and yes there was music on the courts coming from the pavilion. The theme for the music was "moon" songs with hits like these: Bad Moon Rising, Fly Me to the Moon, Moon River, Neon Moon, Can't Fight the Moonlight, Moonshadow, Moonlight, It's only a Paper Moon.
In addition to the round robin play there was a serving skills contest. Participants were given the opportunity to serve into two neon, glow-in-the-dark shapes on the court. Points were awarded for each ball that landed in the shape. The game ended in a playoff for first place between Lupe Cook and Rainie Warner. Lupe walked away with the first place bragging rights and a $15 Bistro gift card. Rainie earned second place and a $10 Bistro gift card. There was also a playoff for third place with Priscilla Wolf, Susan Ness, Larry Burchfield and Jim Grady. Susan Ness walked away with third place. Congratulations to all players that participated, and congratulations to our winners. A big thank you goes out to Lynn Fidler for helping keep score for the skills contest. Thank you, Lynn!
Rumor has it that Moon Pies were served at the end of the social play. For more information on what a Moon Pie is ask your fellow pickleball enthusiasts.
The SaddleBrooke Ranch Pickleball Association social committee members are Mary Stolze, committee chair, Lorraine Smith, Susan Engebretson, Corine Sturdivant, Sally Grasso and Larry Steinberg. A big thank you to Lorraine Smith who was the lead for the Moonlight Mixer event, and by all accounts this event was a stellar success.
Pictures of the event were provided by Lupe Cook, Lorraine Smith and Susan Engebretson. Thank you all for these great shots of our players and the event.
The social committee organizes social events for the year with events being held every other month. Their primary goal is to encourage all members to come out for fun, play and building friendships.
Mark your calendars now for the committee's next big social event, which is scheduled for Wednesday, August 23, 2017. This event will be social play followed by a pool party. Play will be scheduled from 4:30 to 5:30 p.m. and then off to the pools for a cool down fun time.
If you are not part of the SaddleBrooke Ranch Pickleball Association and would like more information or to become a member, please visit our website: http://www.sbrpickleball.club.
Pickleball is the fastest growing sport for seniors in America, and as such we enjoy the benefits of great exercise and numerous friendships developed through the sport.
You too can be part of the great events that our social committee put on throughout the year!