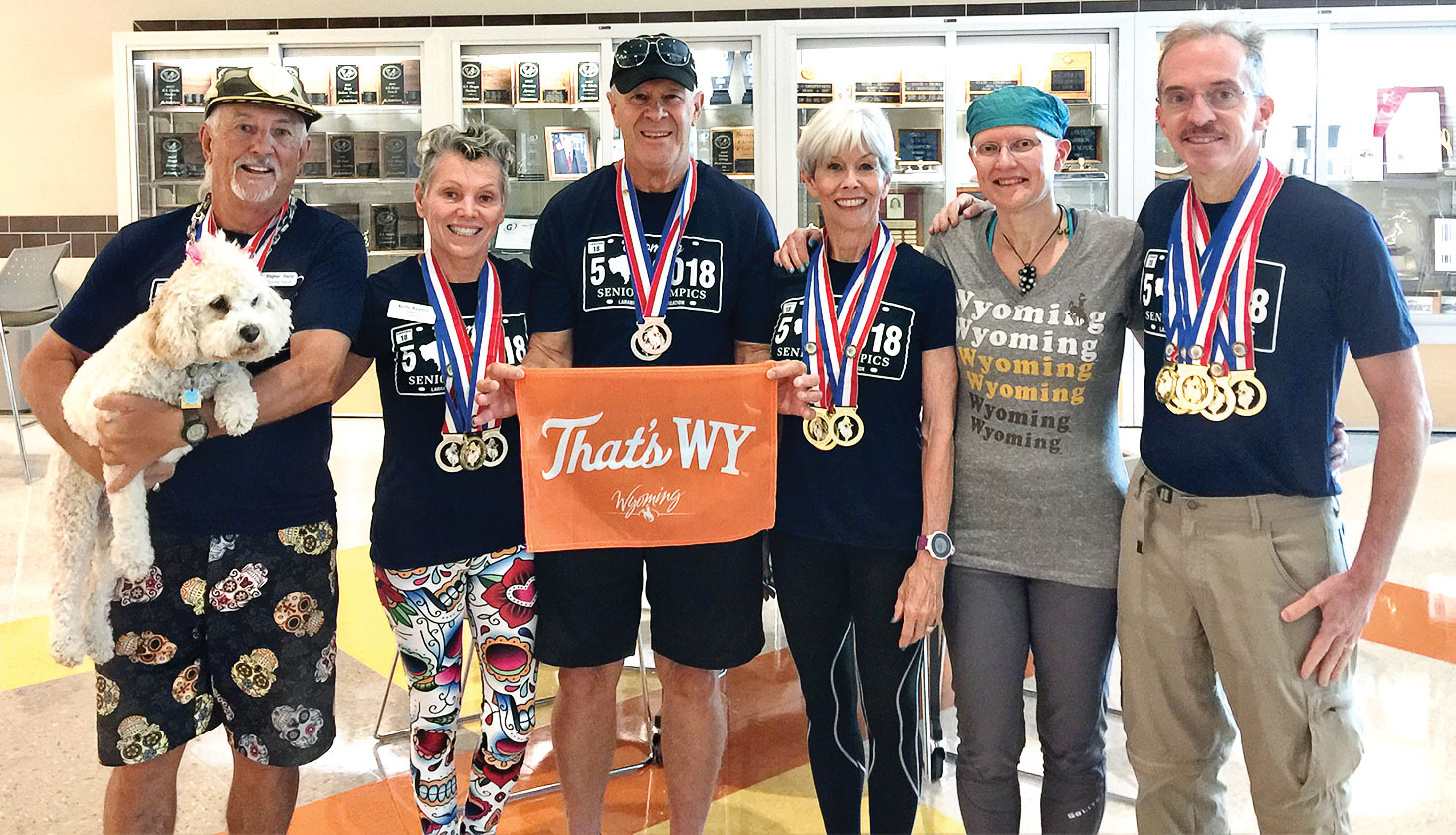 Donald Schaefer
Several SBR residents traveled to the Wyoming Sr. Games in Laramie, Wyoming Aug 1-5 and mined a lot of Wyoming Metal ( Medals). This event was a qualifier for the National Sr. Games in Albuquerque, New Mexico in summer 2019.
Tom 'Wingman' Reuter and Don Schaefer participated in both singles and doubles 70-74 men's Pickleball. The Pickleball was inside ( due to the famous Wyoming winds ) at the brand new Laramie High School. Tom won a Silver Medal and Don a Bronze in the singles. They partnered together the following day to receive a Silver Medal in mens doubles.
Kelly Reuter (F65-69)competed in the Swim Meet , also in the new High School. Kelly had previously qualified for Nationals in the Arizona meet, and added to her events she could swim by winning Gold in the 50 Fly and 100 Back. She also garnered Silver in the 100 IM. This was Kelly's first ever 50 Fly .
Newest SBR member Stephen Mork ( Stephen and his wife Camilla are in the process of building their villa) managed a nice medal gathering—7 Golds in the 50-54 age division. All victories in the Freestyle and IM races. This was Steve's first foray into Senior games.
Betty Schaefer who had also previously qualified in the AZ. Games, was the lucky recipient of getting to participate in the high mesa winds (7000' elevation ) at the U of Wyo. Track and came away with three Golds. She won the F65-69 200m ,400m, and 800m.
Kelly, Betty , and Don all age up a division in 2019 and are anticipating duplicating these successes next year in New Mexico.
The National Sr. Games are held every two years at a site that bids on them. Albuequerque N.M. is the site for 2019. Over 12,500 participants will be in town for two weeks ( June 14-25) of competition in 2019