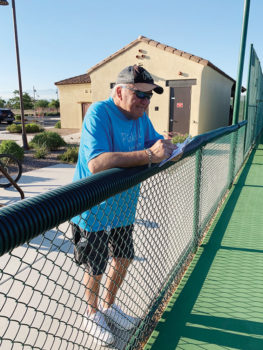 Alastair Stone
Before the COVID-19 shutdown, three players had had tests arranged, and SaddleBrooke Ranch Pickleball Association (SBRPA) Vice President Larry Burchfield was able to agree with SBR management how this could be done.
As you can see, Larry had to referee standing outside court 1.
Larry was more than a little pleased to referee the first two tests: Abby Foote made it to the 3.5 level, and David Landry did the same to 3.0.
Evelyn Silver also made it to 3.5, and after the match, referee Alastair wrote, "What a joy to watch the four ladies play (Evelyn, and her testers Chris Logan, Deb Lawson, Jen Campion), a class act.
I wish every 2.0. 2.5. 3.0 could have watched—fantastic volleying, great dinking, amazing rallies, and good sportsmanship!"