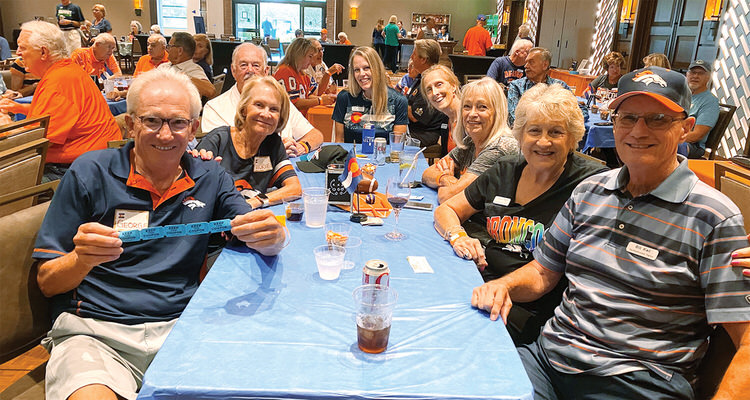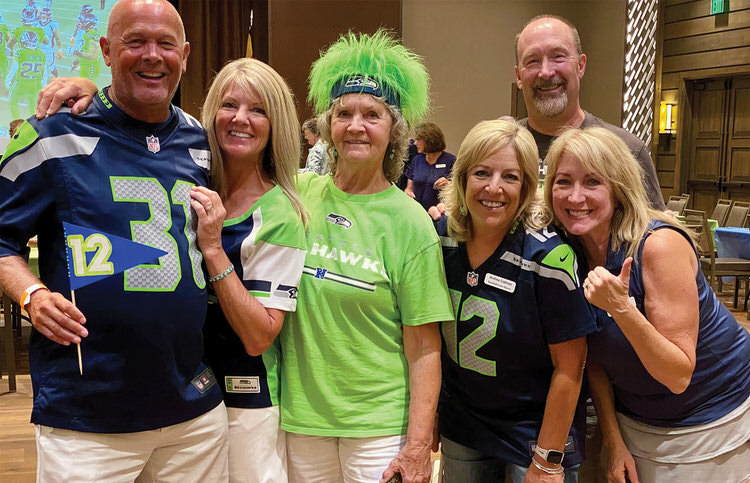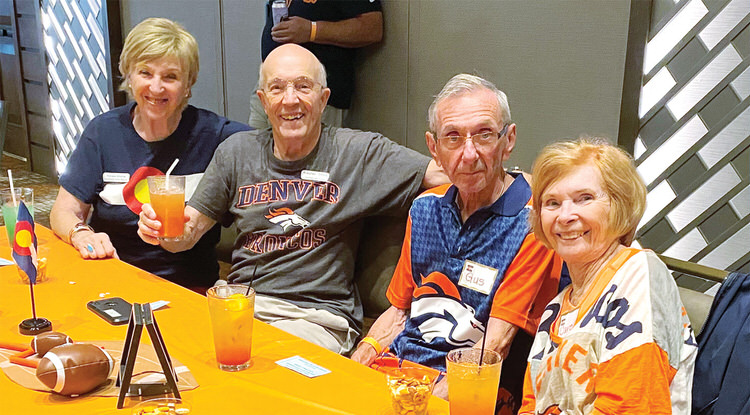 SBR's Washington Club and Colorado Club
What a great time for the SaddleBrooke Ranch Washington State Club and Colorado Club to come together for a super exclusive event—Monday Night Football on Sept. 12 with the Seattle Seahawks and the Denver Broncos. Only members of the two clubs were invited to attend this game shown in the Ranch House Sol Ballroom on the big, big screen.
Fans from both clubs came in with their team's jerseys, ready to cheer their favorite team to victory. The cocky Bronco fans were sure the new, highly paid quarterback and Super Bowl winner, Russell Wilson, ranked 100, would take the Broncos to victory. But the Seattle Seahawks were not going to let the turncoat quarterback get the edge. With a dynamic Seahawks defense, they were ready to take on Wilson, and they did with a surprising win of 17-16.
Each club was cheering and groaning every minute of the game. The knuckle-biting fourth quarter field goal play by the Broncos to take the lead, with only seconds on the clock, did not yield a win for the Broncos.
While watching the game, attendees enjoyed their pre-ordered sandwiches and sides from the Ranch House grill. Our choices were roast beef and cheddar, sliced chicken breast and Swiss, or hummus veggie wrap. The RH staff did a great job with the food. Kudos to Manny in the kitchen. "Turkey-gate" presented a last-minute problem (the HOA was not able to get sliced turkey for the sandwiches), but they were able to supply the sliced chicken breast to save the day. All were happy with the substitution.
The HOA provided the event with a full cash bar, with Tyler Rose, banquet manager, introducing the group to the Bronco Boiler and the Seahawk Shanty. With the always smiling faces of the three HOA servers, Crystal Wold, Crystal Rivera, and Angel Jennings, we didn't go thirsty.
We can't have a football game without a Seahawks and Broncos Football Pool. Cash was given out at the end of each quarter based on the score of each team. Who knew our Colorado Club member Irene Keil would be such a big winner. She had the right numbers for the first quarter, at half time, and third quarter, winning $300, but the big prize for the end of game went to Tyler Rose. Our raffle winners were Dave and Gayle Richey and Valeria Zupancic. Congratulations to all the winners!
A shout-out to all the volunteers putting on this great event. Washington Club volunteers were JoAnn Pritchard, Suzy Claar, Dianne Bradley, and Mindy Hawk. Colorado Club volunteers were Pete and Roxanne Watson as well as Linda Shannon-Hills. Thanks to Geri Green for supplying football décor to liven up our tables.
A big thank you to all the members attending this event. It was so much fun! Maybe we can meet in this year's Super Bowl!